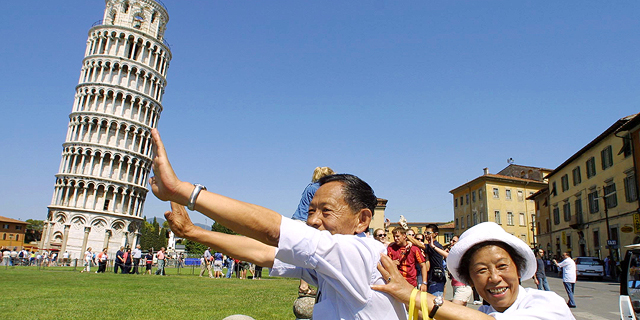 Interview
The World According to China's No. 1 Travel Agent
No one can ignore the Chinese tourist, says Jenna Qian, CEO of destination marketing at China's largest travel agency Ctrip
Ofir Dor
|
16:07 09.07.2018
In 2014, Shanghai-headquartered Ctrip.com International Ltd., the largest online travel agency in Asia, launched a unique, first of its kind travel package in China: 88 days around the world, priced at $200,000. The company deliberated whether such a product would even have a market.
For daily updates, subscribe to our newsletter by clicking here.
"How long do you think it took to sell the 22 tickets issued for the first trip?" asks me Jenna Qian, Ctrip's CEO of destination marketing, when we meet at a coffee shop in central Beijing.
"Around a week," I hazard a guess.
She smiles at me, and then answers: "17 seconds." The dizzying speed at which Ctrip's tickets sold is an extreme example of the most significant phenomenon the global tourism industry is experiencing today: the enormous demand seen from Chinese tourists for trips outside of China, evidenced in the number of tourists and the money they spend, and also in the rate at which both parameters are growing. In 2017, Chinese tourists crossed China's borders 131 million times, according to the UN's World Tourism Organization, a 7% increase from 2016. They spent $258 billion in total during those trips, almost double the total of American tourists and three times the total of German travelers. "Chinese tourists are the most powerful single source of change in the tourism industry," said Taleb Rifai, then the secretary general of the organization, in an October 2017 interview with South China Morning Post. These tourists are a driving force of growth not just specifically in the tourism and hospitality industries. Hotels, restaurants and a wide range of retailers at a variety of countries are adapting to the Chinese tourist, enabling the use of popular Chinese mobile payment apps and employing Chinese speakers as service providers. It's only the start: just 9% of Chinese citizens have a passport currently, compared to 40% of Americans. And Ctrip is riding the tourist wave. It is now one of the largest online travel companies in the world in terms of market capitalization—almost $25 billion on Nasdaq—second only to Booking.com. It employs some 30,000 people and reported revenues of around $4 billion last year, compared to $64 million a decade ago. In this thriving mechanism, Qian is a key figure, helping destinations around the world market themselves to Chinese tourists. But when referring to the Chinese tourist boom, Qian goes for the understatement, simply saying that no one can ignore the Chinese market today due to its size. While China's status as the most populous country in the world cannot be discounted, there are two other factors that play a major part. The first is the rise of a strong middle class—estimated to count 400 million people by 2020—for which a trip abroad has become a status symbol. The second is more relaxed regulations regarding tourism: in 2000, only 10.5 million trips across the border were recorded, according to China's national tourism administration, and most of those were either in some official capacity or family visitations approved by the government.