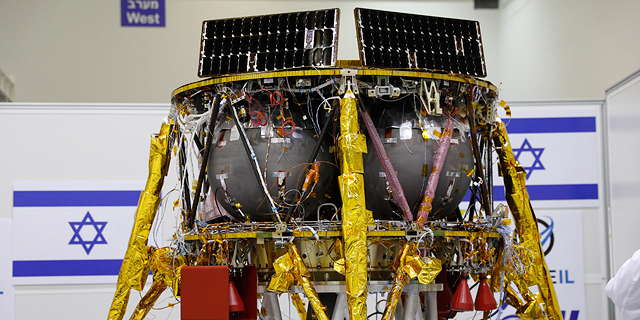 Israel Set to Take First National Selfie on Moon
Israeli non-profit organization SpaceIL intends to land its first unmanned spacecraft on the moon in February
Amitay Gazit and Tofi Stoler
|
17:46 10.07.2018
Israeli non-profit organization SpaceIL intends to land its first unmanned spacecraft on the moon on February 13, 2019, SpaceIL announced at a press conference Tuesday. SpaceIL presented its completed spacecraft, scheduled to launch in December on a SpaceX rocket. If successful, the mission will make Israel the fourth country to land a spacecraft on the moon's surface, after the Soviet Union, the U.S. and China.
For daily updates, subscribe to our newsletter by clicking here.
SpaceIL was established in 2011 with the intention to land the first Israeli-made unmanned spacecraft on the moon in 2018, as part of Google's Lunar X Prize. The Israeli team was among the five finalists in the 10-year space race in which privately funded teams from all over the world competed for a $20 million prize. The competition was canceled in January when it was made apparent that none of the finalists would make it to the March deadline. At the time, SpaceIL announced it will continue its efforts to complete the mission.
"The philanthropists who put money into the project want to see Israel's flag on the moon," Yigal Harel, head of SpaceIL's spacecraft program said in a phone interview with Calcalist on Tuesday.
According to Harel, they will. The spacecraft comes equipped with a camera set to take pictures of the moon's surface as well as of an Israeli flag embedded on the craft itself "as a symbolic flag planting of sorts," he explained.
Upon reaching the moon, the craft will land and operate autonomously to conduct a two-day scientific mission in collaboration with the Weizmann Institute of Science, a research university in central Israel, Ido Anteby, CEO of SpaceIL said in the press conference.
A device installed on the craft will measure the magnetic fields around the landing site and transmit the data back to earth for further analysis and study by researchers around the globe, Harel explained.
SpaceIL employs 35 engineers directly and several dozens more through various subcontractors, including IAI.