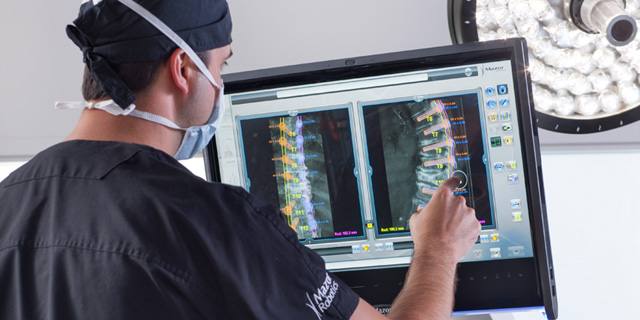 Medtronic to Buy Surgical Robotics Company Mazor Robotics for $1.6 Billion
Over 200 of Mazor's robotic spinal surgery guidance systems are in use worldwide
Golan Hazani
|
09:18, 21.09.18
Medtronic Plc has agreed to buy Israel-based surgical robotics company Mazor Robotics Ltd. in a deal valuing the latter at $1.64 billion, the companies said in a statement Thursday.
The deal was approved by the boards of both companies and is expected to close by the end of January 2019, the companies said.
For daily updates, subscribe to our newsletter by clicking here.
The owner of 11% of Mazor shares according to Bloomberg data, in August 2017 Medtronic announced an agreement making it the sole distributor of Mazor's Mazor X robotic surgery guidance system.
Medtronic agreed to pay $1.34 billion for the remainder of the American Depository shares and regular shares of the Nasdaq-traded company, an 11% premium on Mazor's share price at Thursday's market close.
Headquartered in Caesarea, Israel, Mazor, founded in 2001, is regarded as a pioneer in the field of surgical robotic guidance systems. Over 200 of the company's robotic spinal surgery guidance systems are in use worldwide, helping surgeons accurately place implants in minimally invasive procedures. In 2016, the companies signed a multi-phased strategic investment agreement in which Medtronic agreed to buy up to 15% of Mazor's shares. "We believe robotic-assisted procedures are the future of spine surgery and provide surgeons a more precise, repeatable, and controlled ability to perform complex procedures," said Geoff Martha, executive vice president and president of the Restorative Therapies Group at Medtronic in a statement. Ori Hadomi, the company's CEO is currently under investigation for possible insider trading and was questioned on the issue by Israel's securities authority.