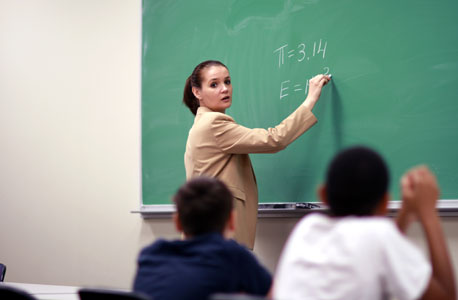 Swipe Right for a Substitute Teacher
Israel's education ministry is rolling out a new initiative intended to make the process of finding a substitute teacher in the country as easy as ordering a taxi via an app
Yoav Stoler
|
15:18 22.10.2018
The Israeli Ministry of Education is rolling out a new initiative intended to make the process of finding a substitute teacher in the country as easy as ordering a taxi via an app.
For daily updates, subscribe to our newsletter by clicking here.
In June, the ministry launched a tender for the establishment of a substitute teacher database that will let schools contact Israel's 39,000 substitute teachers via an application. Selection of teachers could be based on geographic location, resume, availability, and reviews provided by other school principles. Two Israeli companies were chosen for the project, expected to be launched within the current school year. The overall budget allocated to the project initially was NIS 4.1 million ($1.12 million).
According to ministry data, 1.75 million hours are taught annually by substitute teachers and pre-school teachers in Israel. Many institutions need to find substitutes with little to no notice, due to a sickness or emergency. Others need to find a replacement for a prolonged period of weeks to months as a result of illnesses or accidents, maternity leave, and sabbaticals.
The tender puts an emphasis on the need to track and recognize whether a substitute teacher has a criminal record or had previous accusations made against them.
In 2017, an Israeli substitute teacher accused of sexually molesting several second-graders turned out to have had previous accusations made against him, and a previous record of being fired from a teaching job due to his behavior around female students. In August, a middle school teacher was one of six suspects arrested in an Israeli police sting operation to catch pedophiles online. Several cases of abusive kindergarten teachers also made headlines recently, leading to calls for better supervision mechanisms.