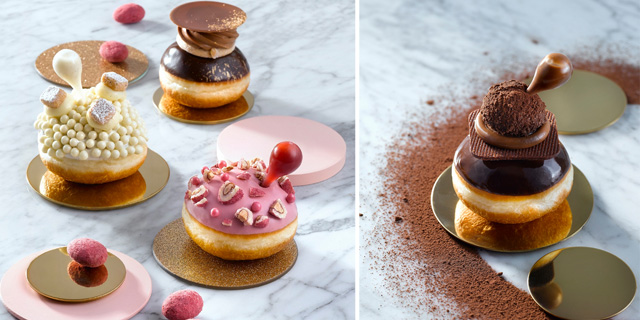 Israel's Humble Doughnut Glams Up for the Age of Instagram
Country-wide baked goods chain Roladin now publishes annual catalogs featuring models styled and made up to resemble the year's collection of doughnuts
Amarelle Wenkert
|
19:09 02.12.2018
Sufganiyot, the humble Israeli doughnut eaten at Hanukkah, is humble no more. The traditional treat: a round spongy doughnut, not enough jelly, too much powdered sugar–has in recent years evolved into an extravagant pastry right for the age of Instagramable foodstuff. Across Israel, bakeries compete for buyers' attention with elaborate, gaudy designs described with such haute patisserie jargon as glaçage and dragée and Dacquoise.
For daily updates, subscribe to our newsletter by clicking here.
"Designs" is fitting, too, because many of Israel's bakeries have taken, in recent years, to calling their Hanukkah offerings "collections." Perhaps most closely associated with the holiday, country-wide baked goods chain Roladin now publishes annual doughnut catalogs with models styled and made up to resemble the year's collection of doughnuts.