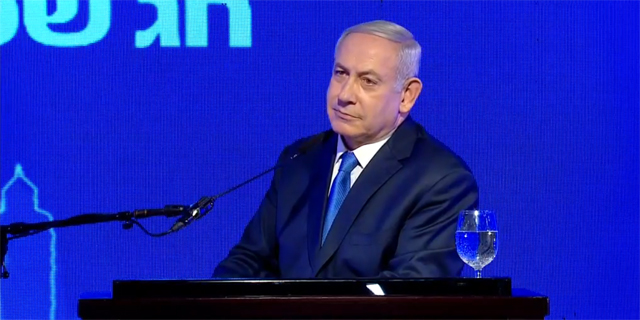 Netanyahu Makes Light of Fraud Allegations
On Sunday night, the prime minister spoke at his party's annual Hanukkah celebration joking about the plethora of allegations pending against him
Adi Pick and Tofi Stoler
|
14:03 03.12.2018
Israeli Prime Minister Benjamin Netanyahu called recommendations published by Israeli police to charge him and his wife with fraud a part of an ongoing "witch hunt." He was speaking at an annual Hanukkah candle lighting ceremony hosted Sunday by Israel's ruling Likud party, which he leads.
For daily updates, subscribe to our newsletter by clicking here.
On Sunday, Israel's police and the Israel Securities Authority recommended charging Netanyahu and his wife Sara with fraud and bribery. The recommendations are the culmination of "Case 4,000," one of several investigations involving Netanyahu that are currently in progress.
In the video, Netanyahu speaks to fellow customers while waiting in line to buy sufganyot, traditional holiday doughnuts.
When the number 6,000 suddenly flashes on a screen, the person Netanyahu is speaking to reacts in shock, apparently thinking this represents another case against the prime minister, referencing cases dubbed 1,000, 2,000 and 4,000, in which Netanyahu has been a suspect. "That is your number in line or the number of calories you are going to eat," Netanyahu laughs reassuringly.
It should be noted that Netanyahu tweeted a sneak peek of the filming of his video on Thursday, perhaps indicating he was aware of the intended timing set for the publication of the police recommendations.