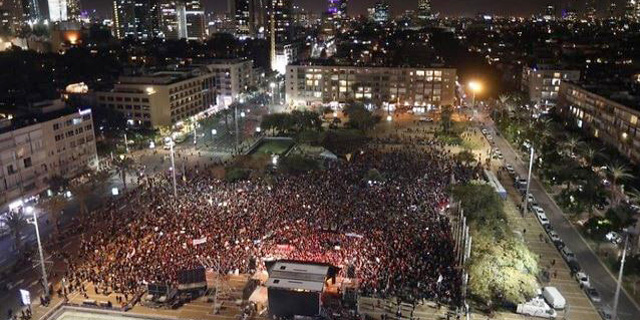 In Tel Aviv, Thousands Protested Violence Against Women
In a culmination of what civil organizers called a national day of rage, thousands demonstrated in front of the Tel Aviv City Hall Tuesday night against the rising violence targeting women in Israel
Amarelle Wenkert
: 2018-12-05T17:11:07..
In a culmination of what civil organizers called a national day of rage, thousands demonstrated in front of the Tel Aviv City Hall Tuesday night against the rising violence targeting women in Israel. So far in 2018, 24 women and girls ranging in age from 13 to 91 were killed in the country by a partner, a relative, or someone they knew, the most killed in one year since 2011.
For daily updates, subscribe to our newsletter by clicking here.
Protest activities engulfed the country in recent days, following the consecutive murders of two young girls. On November 26, 13-year-old Sylvana Tsegai, an Eritrean refugee living in Tel Aviv, was murdered, allegedly by her mother's partner. The same day, the body of 16-year-old Yara Ayoub was discovered in her hometown, the Arab Galilee town of Jish, following a five-day search.
According to protest organizers, more than half the women killed had been known to authorities and had filed complaints with Israel Police.
Many government agencies and local authorities said employees wishing to protest must do so at the expense of their own vacation time. Some companies expressed support of the cause by allowing employees to demonstrate and go on strike at no financial cost. These include Israeli banks Hapoalim and First International Bank of Israel, drugstore chain Super-Pharm, and tech companies Google and Facebook. Academic institutions also participated with walk-outs, demonstrations, and marches.