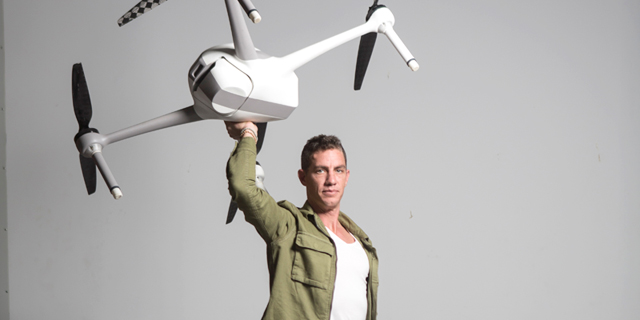 CEO of Automated Drones Company Airobotics Draws the Line at Airborne Firearms
Israel-founded startup Airobotics aims to move beyond security details in factories, mines, and refineries, and secure the U.S.-Mexico border, says CEO
Keren Tsuriel Harari and Meir Orbach
|
17:22 05.12.2018
Airobotics Ltd. is developing automatic drones capable of performing security details and land surveys at factories, refineries, and mining sites. It does so from a hangar in Petah Tikva, a lackluster Tel Aviv suburb. The company was able to pick up some big names as customers, including Intel and BHP Group, and raise over $100 million. Now it is spreading its wings and moving its headquarters to the U.S. It is also setting its sights on an additional business: securing national borders.
For daily updates, subscribe to our newsletter by clicking here.
The drones developed here execute planned missions without a need for a human guide or operator: they take off from a large custom made box-shaped docking station and go about on their pre-assigned aerial missions—security patrols, and land and resource surveys. They'll fly back to the crate for a recharge, storage, and sometimes for an automatic replacement of a specific camera or sensor. In landing, each drone releases a dongle that attaches itself to the docking station, before finally settling within the box. A robotic arm then gently moves the drone's propellers and replaces its battery and sometimes sensors, in preparation for the next mission.