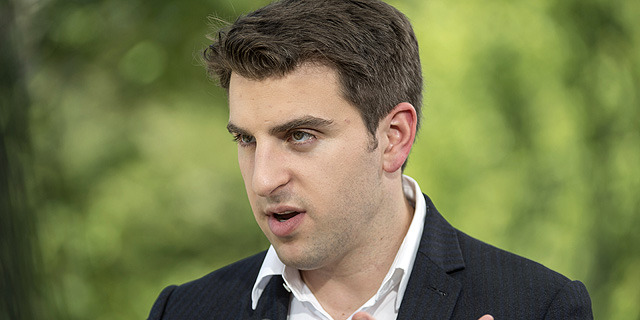 Airbnb Contests Claims of Settlements Ban Reversal
Airbnb released a statement Monday calling reports that it is reversing the ban "inaccurate"
Adi Pick
|
12:22 18.12.2018
After announcing last month that the company will be removing listings in Jewish settlements in the West Bank, Airbnb sent a delegation of senior executives headed by the company's Head of Global Policy and Public Affairs, Chris Lehane, to Israel following pressure by the Israeli government. The delegation met with Tourism Minister Yariv Levin Monday.
For daily updates, subscribe to our newsletter by clicking here.
A tourism ministry spokesperson informed Calcalist that at the end of the meeting, Airbnb said that the company's policy of removing settlement listings will not be implemented in practice. Levin also hailed Airbnb's decision to reverse its settlement ban as "an important step in the right direction," in a statement published Monday. In a statement later released by Airbnb, the company contested the statement, calling reports citing Levin "inaccurate."
The company explained that while Airbnb is against the boycott, divestment and sanctions movement against the Jewish state, it is "developing the tools needed to implement" the policy and will continue dialogue with stakeholders and the Israeli government.
As of Tuesday, listings in West Bank settlements are still available on Airbnb's website. Airbnb's announcement of the planned removal of settlement listings on November 19, came one day before New York-based Human Rights Watch was set to publish a report outlining the company's activities in the West Bank. The report lists 139 properties in Israeli settlements on Airbnb's service. In Israel, a class-action lawsuit against the company was filed to a Jerusalem court last month. It was filed by Ma'anit Rabinovich, a Jewish settler from the West Bank settlement of Kida, located approximately 45 kilometers north of Jerusalem. A group of 18 Americans has filed a lawsuit in Delaware against Airbnb, following the company's announcement that it will be removing listing in Israeli settlements in the West Bank from its service. More than 25 states have enacted legislation against boycotting Israel. Israeli Minister of Strategic Affairs Gilad Erdan sent letters to five governors from both political parties in the United States, asking them to look into possible sanctions that can be taken against the company, according to a statement sent to Calcalist. American Vice President Mike Pence criticized Airbnb's decision at the annual conference of the Israeli American Council in late November. Pence stated that boycotting Israel "has no place in the free enterprise of the United States of America".