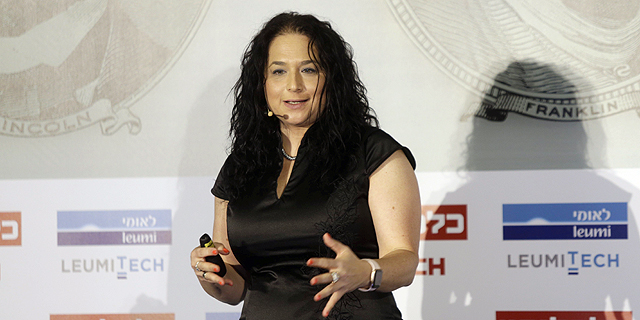 FINTECH 2019
Innovation in the Financial System Must Come From Within, Says KPMG Exec
Meital Raviv, a managing director and head of fintech and innovation at KPMG Israel, spoke Monday at a fintech conference held in Tel Aviv by Calcalist, Bank Leumi's tech banking arm LeumiTech, and accounting firm KPMG
Naomi Zoref
|
16:42 24.06.2019
On the chessboard of the financial world, Libra is like a new queen, according to Meital Raviv, a managing director and head of fintech and innovation at accounting firm KPMG Israel. Speaking Monday at a fintech conference held in Tel Aviv by Calcalist, Bank Leumi's tech banking arm LeumiTech, and KPMG, Raviv said Libra could change everything at the blink of an eye.
For daily updates, subscribe to our newsletter by clicking here.
While it can be hard to predict the changes tech giants will bring to the finance industry, raviv said, the likes of Libra and Amazon offer a new model, one that looks to consumers and their desires to define their own future operations.
Today's consumers are agnostic in their approach, meaning they will consume services from whoever meets their needs and may choose to combine between multiple service providers, Raviv said. Therefore, the financial business models of the future will look different, and organizations need to think about that and collaborate better, she added.
Raviv offers four tips for a successful collaboration between financial organizations and fintech startups. The first is that a startup needs to have a connection to the organization's strategy and needs. The second is that it needs to understand the organization on the level of collaborations and contracts. The third is that collaboration needs to extend beyond just new technologies, to the entire financial ecosystem. The fourth is the importance of defining mutual objectives and motives, as startups and financial organizations typically look for different things when seeking a collaboration.