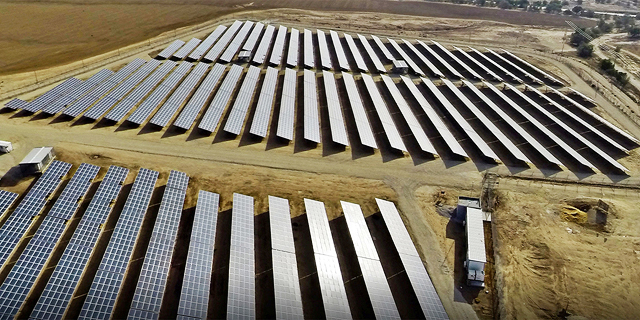 Huawei Enters Israeli Solar Electricity Market
The Chinese telecommunications company has made a strategic decision to open a local representation to sell equipment to solar energy companies, following reports that it was shutting down its energy operations in the U.S.
Lior Gutman
|
16:05 27.06.2019
Chinese telecommunications company Huawei Technologies Co. Ltd. has made a strategic decision to enter the electricity production market in Israel and open a local representation to sell equipment to solar energy companies, according to several people familiar with the matter who spoke to Calcalist on condition of anonymity. Huawei intends to approach both active companies and companies currently competing in tenders recently published by Israel's Electricity Authority for the establishment of solar fields in Israel, the people said.
For daily updates, subscribe to our newsletter by clicking here.
Following the publication of Calcalist's report in Hebrew, Huawei Israel officially confirmed on Wednesday its Israeli plans. On Tuesday, the Financial Times
reported
that Huawei is shutting down its energy operations in the U.S. due to conflicts with the government.
light rail
; in the local road industry, with the involvement of Chinese companies in the Carmel Tunnels project in Haifa; and with Chinese
involvement
in the construction of Ashdod port and the operation of Haifa port. The only infrastructure domains currently not seeing Chinese involvement are electricity, water, and natural gas. The participation of a giant corporation like Huawei in local electricity ventures will also provide it with access to information about the electricity production capabilities of the Israeli market. In 2011, the partners in the Leviathan offshore gas field negotiated the entrance of China National Offshore Oil Corporation (CNOOC) to the partnership, but the talks fell through, partly due to governmental unease. Chinese companies have also made several attempts to enter the local water desalination industry, with Israel's accountant general just last month blocking Pan-Mediterranean Engineering Ltd. (PMEC), a subsidiary of China Harbour Engineering Company, from participating in a government tender for the establishment of a new desalination plant. There is no initiative of the Ministry of Energy or the Electric Authority to involve Chinese companies in the Israeli electricity manufacturing industry, Rafael Kirshenboim, the owner of I.E.A. Energy, told Calcalist in an interview. The Chinese started in the telecommunication industry, and their technology cuts costs while offering the ability to control electric transfer remotely, Kirshenboim said. "Their grip in Europe has grown by dozens of percentages and now they have decided to enter Israel," he said. To test the Chinese equipment, Kirshenboim said the company's solar inverters were installed a year ago in a few already operational solar fields, mostly in Israel's south and center. The pilot was intended to test their compatibility with Israeli weather and the national power systems. "The first test was successful, with Huawei conducting monthly monitoring to detect any problems or malfunctions," he said. "There weren't any, and now the company is increasing its marketing in the alternative energy industry." In a recent interview with Calcalist, U.S. Deputy Secretary of Energy Dan Brouillette said he had told Israeli Minister of Energy Yuval Steinitz that China does not necessarily have "pure motivations" when it makes investments. It is, of course, Israel's prerogative, but caution should be advised, he said.