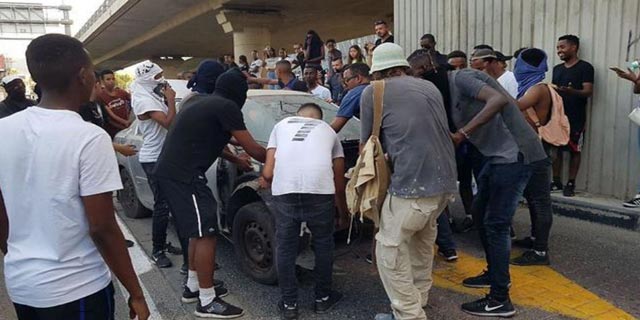 Israel Grinds to a Halt as Country's Ethiopian Community Protests Police Violence
A night of riots resulted in over a hundred cops and many protestors and bystanders injured and 136 protestors detained; damage was caused to private property, police cars, and ambulances
Lilach Baumer
|
12:10 03.07.2019
Around 50,000 Israeli commuters were caught in standstill traffic for hours on Tuesday evening as thousands of members of Israel's Ethiopian community took to the streets and major traffic arteries to protest police violence. Echoing similar protests against police bias by black communities in the U.S., many Ethiopians in Israel are claiming systematic discrimination as well as ingrained racism and a culture of profiling of Israeli police when it comes to members of the community.
For daily updates, subscribe to our newsletter by clicking here.
What sparked this wave of protests is the killing of 18-year-old Solomon Tekah, who was fatally shot on Sunday by an off-duty cop. The Tuesday afternoon protests, which began following Tekah's funeral, were planned for several cities in Israel, among them Tel Aviv, Ashdod, and Haifa, but devolved into a night of rioting that ended with 111 cops injured as well as many protestors and bystanders, and 136 protestors detained. Protestors smashed the windows and set fire to private and police cars, a bus, and several ambulances.