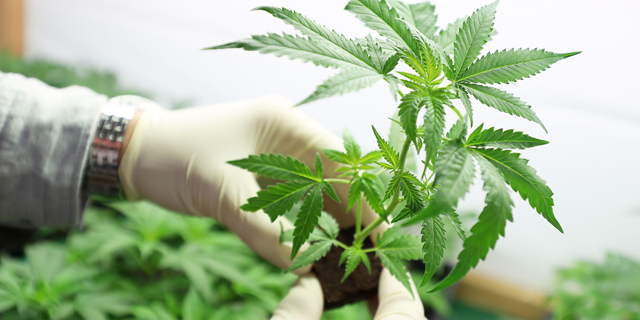 To Tempt Cannabis Growers to Cede to New Regulations, Israeli Health Ministry Dangles Export Promise
New regulations that came into force in Israel in April require cannabis growers to sell their products through pharmacies, instead of directly to patients, leading to an increase in prices and to the health ministry's desire to put a cap on them
Adrian Filut
|
10:33 31.07.2019
The Israeli Ministry of Health is switching gears on its medical cannabis regulation reform, and using the promise of cannabis export to do it, according to one person who spoke to Calcalist on condition of anonymity.
New regulations that came into force in Israel in April require cannabis growers to sell their products through pharmacies, instead of directly to patients as was done until now. Around 60% of patients currently still receive their medication from growers during the transition period. The addition of middlemen and the imposition of stricter quality controls has driven up prices in the market, drawing opposition from almost every player along the supply chain as well as from patients.
The new step the ministry is now putting into motion, according to the person familiar with the matter, will come into effect in a little over a month. As of September 1, any newly licensed growers will be allowed to sell their produce only via pharmacies, and will have to conform to the GMP (Good Manufacturing Practices) standard. Existing growers and distributors will be required to sell at least 10% of their product via pharmacies starting September, with the required amount going up by 10% each month, meaning that within a year growers will be able to sell only via pharmacies. As of January 2020, all medical cannabis products sold will have to meet the GMP standard. The distributors and pharmacists will also have to keep the ministry updated on inventory, to make monitoring easier.
Prior to the reform, patients with a medical cannabis license in Israel paid NIS 370 ($105) a month, plus NIS 100 ($28.4) in delivery costs, regardless of the amount they used. Now, for those buying from pharmacies, cannabis is priced at NIS 180 ($51.1) per 10 grams, meaning anyone buying over 20 grams a month—64% of patients—has seen their medical expenses increase following the reform. The health ministry has therefore requested, but has not yet been granted, a price cap on medical cannabis and its products, leading growers and manufacturers to protest the notion of regulated prices, which they claim would cut into their profits unbearably. The health ministry, therefore, has now decided to dangle a carrot in addition to the stick. In January, the Israeli parliament signed off on the decision to allow the export of medical cannabis from the country, after almost three years in the making. The Israeli Ministry of Finance was, and still is, an especially strong supporter of the export, which could net Israel between $70 million and $1 billion a year according to different experts. Many entrepreneurs pivoted to cannabis in anticipation of a reform, as well as many farmers, most of whom are still awaiting licenses. But the export depends on one key player that has yet to greenlight it—the Israeli health ministry.