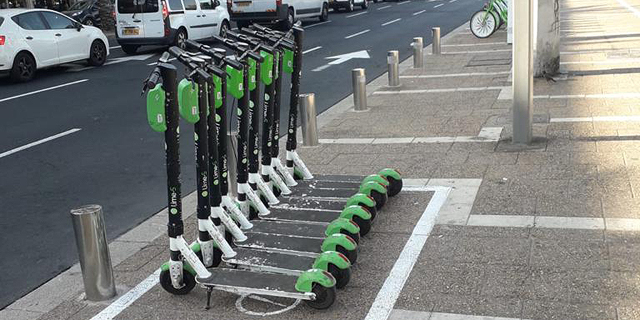 New Regulations Restricting Micro-Mobility Companies Come Into Force in Tel Aviv
The main restrictions imposed by the new regulations refer to where and how shared-bikes and e-scooters are allowed to be parked, placing full responsibility on the operating company and not on users
Tomer Hadar
|
15:35 01.08.2019
New regulations restricting the activity of micro-mobility companies operating in Tel Aviv came into force Thursday. The new regulations affect companies offering dockless electric-scooter or bike-sharing services, namely Los Angeles-headquartered Bird Rides Inc., Berlin-based Wind, operated by BYKE Mobility GmbH, San Mateo, California-headquartered Lime, incorporated as Neutron Holdings Inc., and Chinese company Beijing Mobike Technology Co. Ltd. Earlier this week, Calcalist
reported
that the new regulations caused local e-scooter-sharing service LEO to pull out of Tel Aviv.
begun
to systematically pull over e-scooter users for breathalyzer tests. Last week, Tel Aviv announced residents can report illegally parked scooters via the city's official mobile app. In light of the new regulations in Tel Aviv as well as state wide-regulations that came into force in July restricting the age of users and requiring licenses, Bird recently began
carding
its users. Lime took a different approach, opting to inform users of the restrictions through a billboard and ad campaign.