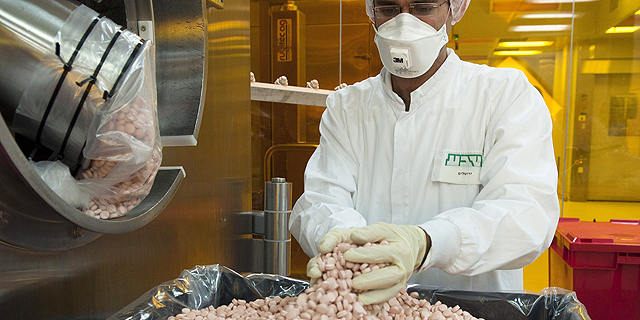 Credit Line and Bonds: Teva's Financial Catch
At first glance, Teva's second quarter reports provided little cause for drama. The small print reveals a very different story
Uri Tal-Tene
|
17:37 12.08.2019
At first glance, the second quarter reports of Teva Pharmaceutical Industries Ltd. provided little occasion for drama. The revenues and operating income were a little higher than the analyst consensus, cash flow was weak but is expected to pick up during the second half of 2019, and the resignation of the chief financial officer was due to family reasons. But the small print reveals a very different story: Teva, as it turns out, made use of a line of credit in July and took out a $500 million loan that would require it to meet some very strict terms that will only grow stricter.
And Teva? Teva is in trouble.
In every comprehensive quarter report (10-Q), Teva outlined its significant generic drugs sold in North America, listed according to revenues (though the company does not disclose the scope of the sales). In the second quarter of 2019, for the first time, the EpiPen is included in the list—and in first place. Mylan doesn't publish a similar list, but it is not unreasonable to assume that Copaxone is topping its generic sales. Teva's results now depend on how the EpiPen market evolves and vice-versa. Teva forecasted Copaxone revenues of $1.3 billion for 2019, and Copaxone's operating income will likely reach around $1 billion for 2019, a quarter of Teva's operating income in total for the year. The rate at which Teva's Copaxone sales will fall in 2020 will considerably impact Teva's ability to meet its financial covenants to the banks. And Mylan's Copaxone strategy—namely, how aggressively it will cut its own prices—will directly affect the rate at which Teva's revenues will decrease. Ironically, Teva's future depends significantly on Mylan's actions.
3. The collapse of the North American generics market The U.S. generic drug market is characterized by ups and downs that are very much affected by the timing of exclusive generic launches. A successful exclusive generic drug launch can result is sales worth tens of millions of dollars a quarter, sometimes even hundreds of millions of dollars, with very high profit margins that have an extensive impact on overall profits. In recent years, changing U.S. regulation and increased competition have resulted in fewer and fewer big launches. After the EpiPen, Teva's most profitable generic drugs in the U.S. for the second quarter of 2019 were Astellas' Vesicare, used to treat overactive bladder, and Teva's own ProAir.