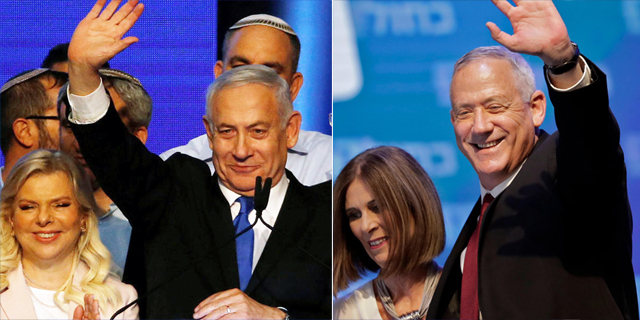 Election
Netanyahu's Likud One Seat Behind Gantz's Blue and White Party
Israel's general election ended in a near-tie between Prime Minister Benjamin Netanyahu's Likud party and Benny Gantz's Blue and White party. Both lack the support needed to secure their leader the prime minister's seat
Tofi Stoler and Adi Pick
|
15:11 18.09.2019
Israel's general election seems to have ended in a near-tie between Prime Minister Benjamin Netanyahu's Likud party and Benny Gantz's Blue and White party. According to the official results released by Israel's Central Elections Committee after counting 90% of the votes, Blue and White managed to win 32 seats while Likud obtained 31 seats, but both of them appear to lack the support of the majority of elected parliament members necessary to secure their leader the prime minister's seat. It is safe to assume the final results, which will only become official on September 25, will not change dramatically. One of the most likely scenarios, therefore, which Blue and White already pushed for in its campaign, is forming a grand coalition that includes Likud, Blue and White, and at least one other small party. Currently on everyone's mind as a possible partner is former defense minister Avigdor Lieberman, who can arguably take credit for making the second 2019 election a reality and has also been pushing for a grand coalition prior to the publication of the results.
voting rates in towns with an Arab majority to under 50%
. In Tuesday's election, the voting rate in Arab towns reached 60%, which many credit to the prominence Netanyahu gave Arab voters and the leader of The Joint List, Ayman Odeh, in his own campaign. Yamina, (rightward in Hebrew), the only woman-led list to pass the electoral threshold, managed to secure seven seats. The list is composed of representatives of right-wing parties The New Right, The Jewish Home, and Tkuma. In April's election, The Jewish Home and Tkuma also ran as one list, winning five seats, while The New Right led by Shaked and former education minister Naftali Bennett failed to reach the electoral threshold of 3.25% and was just 1,454 votes short of achieving the minimal four seats.