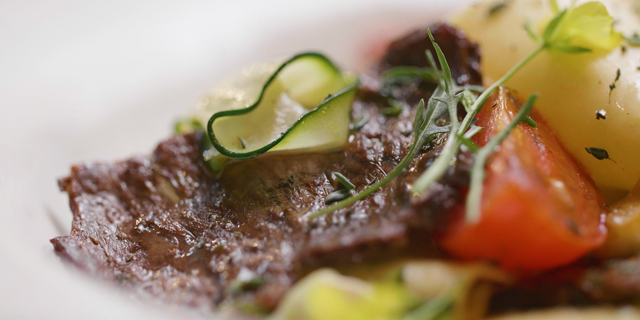 On Target
Foodtech: A Lot of Buzz but not a lot of Capital
Companies that produce meatless meats, eggless eggs, and protein powder from fly larvae can innovate the food landscape of the future, but the venture capital industry is still somewhat hesitant to come aboard
Sophie Shulman
|
12:03 13.12.2019
For years, foodtech was a buzzed-about sector that seemed to have little to do with what we eat every day. Then, in May, plant-based protein burger company Beyond Meat listed on Nasdaq and saw its stock skyrocket by 160% by the end of its first trading day. Today, Beyond Meat is traded at a market value of about $5 billion. In an era of inflated valuations and burst bubbles, Beyond Meat was the little unicorn that could generate real value to its stakeholders.
Foodtech has become our reality. Not just meatless hamburgers, but eggless eggs, alternative milks, cricket farming for protein, and countless other innovations designed to redefine what people eat. More than just a righteous distraction for the privileged few to enjoy, food technology could be the key to feeding the world of tomorrow.
Brown wrote
in the prospectus he filed May 1. The animal, according to Brown, serves as a bioreactor, which can be substituted for plants. By doing so, Brown wrote, Beyond Meat can "bypass the animal, agriculture's greatest bottleneck." In other words, when you disconnect the food from its source, you can generate nutritional value without being dependent on animals, whose production speed is constrained by nature and biology. U.S. company Ripple Foods produces milk from peas in a similar way. The company offers a variety of milk-adjacent products, including sour cream and yogurt, and has raised $120 million to date. Last December, Israeli lab beef company Aleph Farms Ltd., which cultures cow cells to create cruelty-free and sustainable "real" meat, presented a lab manufactured minute steak. In May, the company announced it had raised $12 million to continue developing its process to produce more sustainable, accessible, and affordable meat. Affordability is a sore spot, and one of the reasons investment in foodtech is still relatively low. The market potential is tremendous: the global meat market is valued at $1.4 trillion annually, global food and agriculture are an $8 trillion a year market. Food tech is seeing a mere fraction of a fraction of that, and most of the money does not even go to companies developing alternative proteins. Investors, it appears, traditionally opt for companies innovating the restaurant and delivery businesses. Startups operating in this niche in the U.S. raised $7.5 billion last year, with alternative protein companies only raising $1.5 billion.