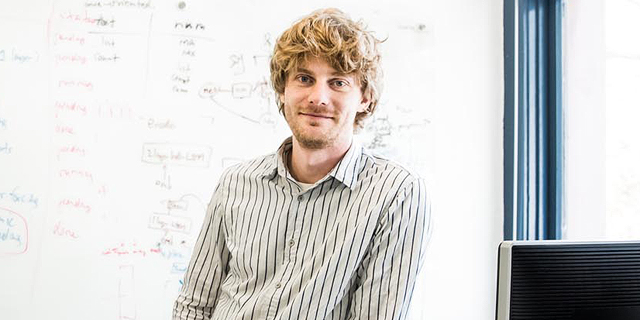 Interview
Awkward Silences Are the Current Obsession of Salesforce's Resident Genius
Richard Socher, chief scientist at multinational software company Salesforce, thinks that speech and voice technologies are the future
Amarelle Wenkert
|
08:53 23.12.2019
Richard Socher, chief scientist at multinational software company Salesforce.com Inc., is currently preoccupied with awkward silences. Specifically, the kind that occurs between man and machine. As far as human skills go, the ability to jump into a conversation at the appropriate moment is not hugely applauded. Still, it does save most of us from uncomfortable situations, and it cuts down on idle time. But to teach perfect conversational timing to a natural language processing artificial intelligence algorithm? That, according to Socher, is no easy task.
article
on the World Economic Forum's website, titled "AI isn't dangerous, but human bias is." His approach reflects Salesforce's; the company puts enormous efforts into nurturing a brand that comes up on the right side of every moral issue, advocating incessantly for causes such as sustainability, gender equality, and diversity. This means that Salesforce's AI, Einstein, must also toe the company line. When you consider the human value of equality and apply it to speech recognition, one of the challenges is making AI understand different accents, Socher said. "The standard training datasets for speech recognition do not include many different accents; it is mostly nice, American English," he said. In the future, he added, his team hopes to integrate a variety of accents. There are other ethical considerations, too. "You want to foster trust in the AI, and for that, you want to make it very natural, but you do not want to confuse anybody into thinking they are talking to a person," Socher said. "There is a fine balance to it. You want it to be awkwardly close to a person but not quite a person." So how do you do that? You can just have the bot say they are a bot, Socher said. "That is the easy way to do it." The first product to emerge from Socher's research lab at Salesforce was the Einstein voice assistant, whose key role is to make everyday business transactions, like logging meeting notes or updating data in the CRM, as seamless as possible.
The key, Socher said, is profoundly understanding user context and infusing the AI with the right knowledge to give the right recommendations at the right time. By doing that, Socher believes that in the end—in some aspects—AI would become superior to humans. "There are certain super skills that humans just don't have," he said. "Humans cannot go through a million websites in a hundred milliseconds and comes back with a result."
The author was hosted bySalesforce at this year's Dreamforce event.