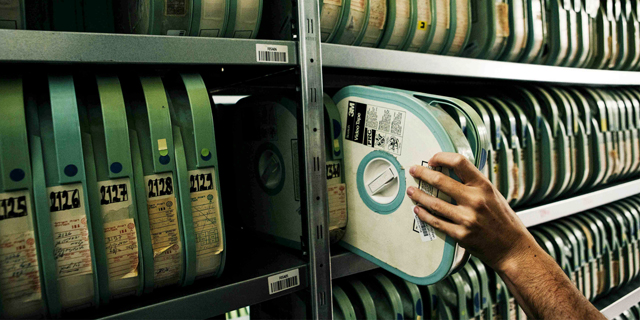 Breathing Life Into Yesterday's News
The digitization of the archive of the Israel Broadcasting Authority, one of the world's largest digitization projects to date, is currently underway in a former Jerusalem brothel
Yoghev Karmel
|
08:45 27.12.2019
A Jerusalem brothel turned dreary commercial space is home to one of the world's largest digitization projects to date. A drive by the dusty building, located in the city's southeastern neighborhood Talpiot, will reveal no hints of what is happening inside, but over the next five years dozens of people will roam its three floors, converting decades-worth of Israel's public broadcasts from film to digital formats. The archive in question is that of the Israel Broadcasting Authority (IBA), the country's public broadcaster between 1948 and May 2017, and the only local broadcasting authority until a second body for commercial television and private radio was created in the early 1990s. The vast amount of material has been conserved in various formats: 200,000 betamax tapes, 15,000 U-matic cassettes, 10,000 1 inch reel-to-reel tapes, 2,500 DV cassettes, and another 17,000 hours of film. Overall, the archive encompasses 400,000 hours of recorded material, and around 1 million hours of IBA footage, though at this point no one knows exactly how many hours there really are. Over NIS 190 million (approximately $54.6 million) were allocated for the project. Upon its completion, planned for 2024, anyone will be able to browse the new digital archive and watch fuzzy footage of historical events to their heart's content.
Film, for example, must be rolled gently before it is cleaned manually with industrial alcohol by a glove-wearing employee. The bad condition of some of the film requires the use of perchloroethylene, a toxic liquid solvent mostly used for dry cleaning and degreasing metals, which is why a large ventilation system was installed to constantly air out the room. Then the film goes on to splicing: in the era before digital editing, sections of photographic film were cut and physically joined together using tape. All those parts need to be retaped, out of worry that the old splices will not hold up to the speed of the new machines. The more cuts, the more time-consuming the work is.
On one screen in the editing room, in black and white, Israel's sixth prime minister Menachem Begin gives a phatos-filled speech at a Likud party convention. On another screen, now in color, two Israeli soldiers stride towards a Lebanese village. The year is 1982. Welcome to the IBA's time machine.
Like much of the IBA's history, the digitization project came to life almost as if by a miracle. The archive's materials, stored under suboptimal conditions in another location, nearly disappeared. The archive halls were decrepit and humid, with oxidized films releasing toxins into the air, according to Billy Segal Gezelius, head of archive at Israeli Public Broadcasting Corporation (IPBC)-KAN. Over the last two years, after IBA was shut down, the situation worsened. "You'd go into the bathroom and have to fight the cockroaches for it," Segal Gezelius said in a recent interview with Calcalist.
The archive is a conservation body but also a production body, and it needed to be placed under the umbrella of another organization or it would have run the risk of disappearing, Segal Gezelius explained. "There were multiple delays, until suddenly they demanded we evacuate the old property within two months." She remembers days spent in the Knesset, fighting to organize a parliamentary tour of the archives so lawmakers would realize just how dire the situation was. In January, the archive was finally relocated to its new home in Talpiot.
The oldest material the archive holds is from the British Mandate-era radio station Jerusalem Calling, established in 1936. The archive is still awaiting material from the Israeli Educational Television, hidden in a warehouse somewhere in central Israel. "Every Sunday I receive around 2,500 tapes, which make up my work for the week," said Dubi Felix, the representative for Dori Media Group, the production company hired to convert the archive's video tapes. His room is loaded with complex equipment imported from Belgium for a total cost of over NIS 1 million (approximately $287,000). But before any equipment can be used, some of the tapes must be baked for exactly 12 minutes in an industrial oven heated to 50 degrees celsius, to dry accumulated fluid. Only then can they be cleaned and converted, using automatic robotic arms to operate the machines.
"Recently, we watched the September 11 attacks," Felix said. "It throws you back, and simultaneously you realize how much television has changed; how much we are now used to controlling the broadcast, fast-forwarding or rewinding, when once you could only sit in front of a screen and watch what they chose to broadcast."
On the way to Segal Gezelius' offices one passes by the storage floor. In one area, blue boxes stacked together on high shelves contain 1 inch reel-to-reel tapes and a lot of memories, the best of the programs broadcasted by Channel One, one of the oldest television channels in Israel. A memorable episode of 1980s-era animated show Snorks is stored alongside 1986's Eurovision broadcast. More surprising, however, is what's missing from storage: newscasts. Arguably the material with the highest archival value, newscasts were systematically erased due to a short-sighted IBA decision, made decades ago, to reuse 1 inch reels to save on the high costs of film. Today, it is almost impossible to find news broadcasts of Mabat LaHadashot, Israel's first televised news program, dated earlier than 1986.