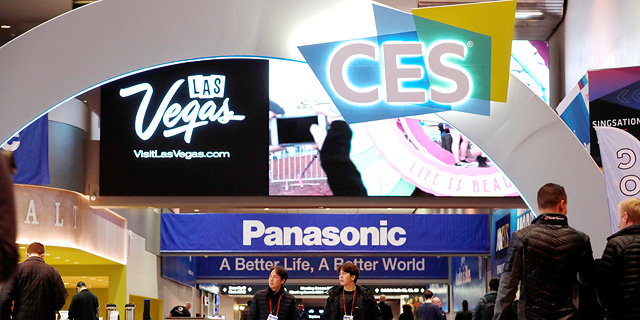 2020's Top Tech Trends According to This Year's CES Tech Exhibition
Calcalist's reporter Lilach Baumer outlines the most prominent issues the tech sector will focus on at the dawn of the new decade, according to the CES exhibition program
Lilach Baumer, Las Vegas
|
14:46 07.01.2020
The 2020 Consumer Electronics Show (CES) will open in Las Vegas on Tuesday. The annual event is the world's biggest technology exhibition. This year, it is expected to draw in over 170,000 visitors from more than 160 countries, who will wander through the booths and displays of about 4,500 companies. Alongside giants like Google, Amazon, Samsung, Facebook, and Apple, small companies and early stage startups will be showing themselves on an international stage for the first time.
More than just a chance to get informed on new launches, CES also gives a peek at what are considered the hottest technological and consumer trends that will affect our lives in the coming year.
Calcalist's reporter is attending the show and has outlined the most prominent issues the tech sector will focus on at the dawn of the new decade, according to CES.
5G and 8K
5G was already trending at last year's CES, but this year it appears the trend will transcend mobile device connectivity. On Friday, Dell EMC announced a new generation of computers and displays with built-in 5G connectivity, and some experts expect to see Apple joining in on the fun and launching its own 5G products. More than 15 panels and events are dedicated to 5G throughout the four-day show.
8K resolution is defined as an image or display of at least 7,680 pixels by 4,320 pixels, promising twice as much detail as the industry dominant 4K ultra-high-definition standard, and six times the image sharpness of HDTV. 8K's level of detail and depth of color have brought some to compare it to
hyper-realistic art
. Even though 8K technology has been around for several years, it has yet to find its way into consumer products, though last year's CES did see the formation of an
8K association
with members including Samsung, Panasonic Corp., and Hisense Co. Ltd. This year, LG went ahead to announce on Friday the launch of eight 8K television sets, days before Samsung announced a similar product. The two companies are currently using different 8K standards, demonstrating that there is still a long way to go before the technology becomes widely accepted by consumers. Also worth mentioning is the fact that very little content is currently available at 8K resolution and that there is no compatible infrastructure to support its transmission. In this case, immersion between 8K and 5G technologies could serve as a solution, as G5 technologies offer not only wider broadband and faster communication but a revolution in everything related to content consumption, from IoT elements, through added augmented reality features, to 8K broadcast. Together, both technologies promise to connect users to the virtual world in a deeper sense.
The U.S. vs. China - will there or won't there be a trade war
In many ways, 2019 was characterized by the trade war between the U.S. and China. Mutual struggles on import tariffs began with U.S. President Donald Trump's 2018 decision to increase tariffs on various products imported from China. Last year saw an additional escalation by the U.S., which published a blacklist of Chinese companies that American companies are forbidden from doing business with. Both parties have been trying to climb down from their trees, and last week, the Wall Street Journal reported China and the U.S. will sign a phase one trade deal within the upcoming weeks.
Whether the deal is signed or not, the trade war has already made its mark on CES. The Consumer Technology Association (CTA), which organizes CES, has announced fewer Chinese companies and businesses will be attending, compared to last year, with e-commerce giant Alibaba Group and tech holding company Tencent Holdings Ltd., being most prominent among those skipping the event. The autonomous car dream has been postponedLast year and the year before, autonomous vehicles were the shooting stars of CES with almost every major car company presenting its own concept of a driverless vehicle. German automaker BMW AG went as far as letting CES attendees book a ride in an "autonomous vehicle" through Lyft, but with a human driver at the wheel, just in case. In an
interview with Calcalist
in January 2019, Amnon Shashua, CEO of Intel subsidiary Mobileye, said Volkswagen AG and Mobileye are planning to have hundreds of autonomous taxis on Tel Aviv's streets by 2022. It seems the industry has since sobered up a little bit, with major players admitting the concept is more difficult to implement than they first realized, and turning their focus onto vehicle fleets and industrial uses instead of private vehicles.
Transportation is, however, still a hot trend at the show, with electric vehicles, electric scooters, and even a flying car concept by Uber and Hyundai Motor Co.
Digital health
Digital health has been gaining traction for years, supported by developments in big data and artificial intelligence technologies and affected by the overall transformation in the field of medicine, especially an increasing emphasis on customized healthcare. In Israel, where digital health companies have the significant advantage of access to extensive medical databases held by each of the country's four leading health maintenance organizations (HMOs), the field is especially booming with $662 million invested in relevant startups in 2019, a 32% rise year-over-year, according to data from Tel Aviv-based non-profit organization Start-Up Nation Central.
The number of digital health companies exhibiting at this year's CES grew by 25% compared to last year, according to the organizers. Large conglomerates like Proctor & Gamble will exhibit alongside proof-of-concept stage startups.
The trend that isn't there: privacy, privacy, and privacy
User privacy has made numerous headlines in the past two years, from the Cambridge Analytica scandal to the shocking realization that Amazon and Apple let human controllers listen in on audio segments recorded at users' private homes by their voice-activated digital assistants. Big data and IoT are two fields that are expected to gain an ever-growing hold on our day to day lives and require a deep discussion on their privacy implications. Still, at least according to the CES program, the issue remains on a back burner. Only two panels in the show deal with privacy issues: the first concerns privacy and security in light of AI technologies, and the other is a chief privacy officer roundtable with prominent figures including Apple's Jane Horvath and Facebook's Erin Egan. It would be interesting to see how these two companies, which recently found themselves in hot water, will choose to address the issue. The author was a guest of Mobileye at CES.