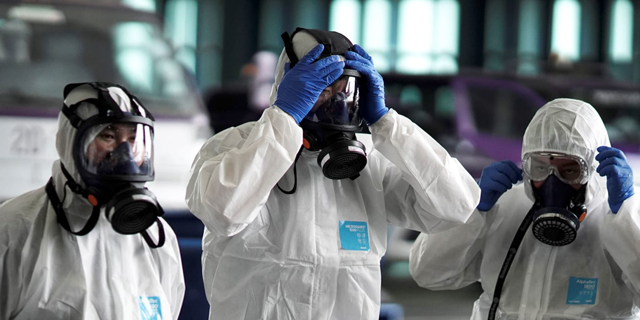 Coronavirus
Coronavirus Could Empty the Coffers of the Israeli Health System
The Israeli Ministry of Health has already been given $16.34 million for virus-related preparations, but that money is coming out of its budget for the rest of 2020
Adrian Filut
|
16:11 25.02.2020
Attempts to understand just how much money Israel has invested to date in coronavirus-related preparations result in conflicting answers. The Israeli Ministry of Finance has been surprised to discover Monday, following media reports, that it had transferred NIS 100 million (approximately $29.19 million) to the Ministry of Health for this very purpose. Finance ministry executives told Calcalist on condition of anonymity that the real sum is closer to NIS 8 million (approximately $2.33 million).
Health ministry executives, however, told Calcalist on condition of anonymity that the sum in question is actually NIS 56 million (approximately $16.34 million), and that the demands submitted to the finance ministry's exceptions committee will reach NIS 100 million within a month, assuming the current situation does not deteriorate further.
reported
entering a self-quarantine for fear of the virus. Health ministry executives warned Monday that "the coronavirus is already here" and it is only a matter of time before the first patients reach the hospitals. That is because a member of a group of Christian pilgrims from South Korea that visited Israel earlier this month for a week was identified as a carrier several days ago. To assume she did not infect other people is both optimistic and unrealistic, one of the ministry officials told Calcalist. Due to the political limbo, Israel's ministries currently operate under a continuous budget, meaning they cannot spend more than they spent in 2019. That makes approval of any exceptions extremely complicated, as the 2019 budget was created based on a different macroeconomic reality, of high growth, high income from taxes, and a budget deficit that was under control. Now, though, the deficit has surpassed its target of 2.9% of the gross domestic product (GDP) and reached 3.6% of the GDP. The finance ministry units in charge of collaborating on the continuous budget are at odds; unlike in 2013 and 2015, when a continuous budget was agreed upon, today the finance ministry operates without an orderly, unanimous continuous budget. As the coronavirus is an aberrant event, every related expense was not accounted for in the previous budget. To approve exceptions, four committees were established under the finance ministry's general accountant unit, tasked with approving every expense of over NIS 50,000 (approximately $14,600). According to health ministry officials, the ministry has asked to set up a separate exceptions committee for coronavirus over three weeks ago, a request that was approved by the general accountant. According to the officials, the committee operates in crisis mode, with requests being approved within minutes of submission, sometimes even after the money was already transferred. To date, the NIS 56 million approved was all used for exceptional expenses such as the ambulance that awaited the Israelis that were brought back from Japan following their disembarkment from the virus-stricken Diamond Princess cruise ship, and a public awareness campaign that cost NIS 3 million (approximately $880,000). In the past few days, however, the exception requests submitted to the committee brought the overall sum to NIS 80 million (approximately $23.35 million), and they are expected to reach NIS 100 million (approximately $29.19 million) in a month, assuming the situation does not deteriorate further. But, as previously stated, all the money the health ministry has received to date came out of its own budget for 2020. If a government is not elected by the end of the year, or even if one is elected and a permanent budget is passed, the health ministry will see its budget cut by the same amount it has received unless some other solution is found. This is because the finance ministry's budgets unit only approved a few millions of shekels extra for coronavirus.