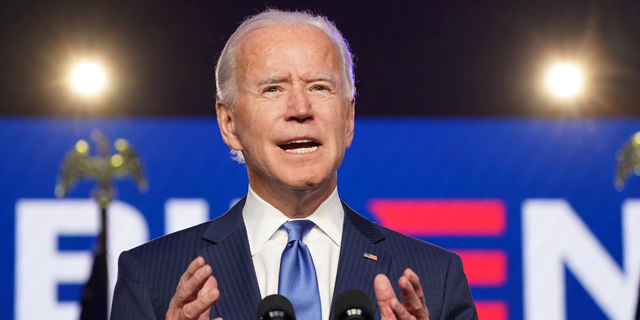 Analysis
Post-U.S. elections – what can high-tech companies expect?
Everyhing from Green Technology, Healthcare, AI, and Space - it's all on the table until 2024
Adv. Joeri Kreisberg and Daniel Ritter
|
17:04 09.11.2020
The elections are over and Joe Biden seems to have won. When the dust settles, what opportunities will open up for startups and high-tech companies?
With Democrats keeping the House of Representatives, and the Senate most likely between 52-48 in one direction or the other, U.S. political history indicates a very active 1.5 years of deal making, as each side throws money at uncertain Senators' states to get their votes. This is doubly true during the pandemic and the U.S. economic situation.
Legislation most relevant to technology companies starting up or growing more active in the US are the Fiscal Year 2021 appropriations (funding) legislation, U.S. budget reconciliation, and a stimulus bill ranging from moderate to very significant. In addition to Covid-19 relief and economic lifelines, the stimulus will likely include large investments in R&D and emerging tech deployment to boost economic growth during the recovery period. The goal should be to recreate the major wave of federal tech investment that followed the 2008 stimulus package (which Joe Biden took the lead on as legislative broker on behalf of Obama). The federal government was pushing piles of money out the door for the next eight years at a variety tech initiatives that seemed like it could pay off in the long run.
Assuming a Biden Administration, here are our thoughts: Green Technology
Companies should expect a big focus in the stimulus on investment in R&D and deployment of green tech. The Biden campaign did a great job marrying the need to combat climate change with the need to embrace economic/job growth from new green technologies. A Biden Administration's ambitious carbon neutrality and clean energy goals could not be met without big advancements in renewable energy, nuclear fusion, superconductors, electric vehicles, batteries, carbon capture/reduction, sustainable food production, smart grid tech, etc. Biden has pledged to invest at least $400 billion into R&D for clean energy, clean transportation, clean industrial process, and clean materials, as well as the creation of an Advanced Research Projects Agency - Climate (ARPA-C). In addition, an infrastructure package to be launched sometime in February will be a huge opportunity for green tech, having a heavy emphasis on clean energy, sustainability, resilience, retrofitting, EV charging stations, light rails, innovative materials, water monitoring systems, and smart transportation. Also expect a push to make renewable energy companies more competitive with traditional fossil fuels and grants to incentivize retrofitting for the sake of improving energy efficiency.
Sustainable food production
Biden has pledged an ambitious net zero emission goal for the ag sector by 2030, and this will require huge advances in food production tech. Rural Members of Congress are going to want to invest in technology that can address environmental impacts, combat erosion, manage water resources, and make biofuels a more viable alternative. Automated agriculture management systems are also being recognized of having a role to play and plays into Biden's heavy emphasis on broadband/telecom investment. Rural Members of Congress are also going to be looking for ways to invest resources into supporting the economic growth of agricultural industries hit hard by numerous trade wars with China, Mexico, and Europe.
Telecom
Telecom technologies like rural broadband, 5G, telemedicine, telework, and distance learning will be top of mind for the Biden Administration. Stimulus funding of telecom R&D and infrastructure will be front and center because of the Covid-19 crisis. The stimulus bill will also be the opportunity for the federal government to act on its concerns with regard to Chinese 5G technology inside U.S. supply chains.
Biotech/healthcare
Covid-19 has underscored the importance of investing early in infectious disease research, so expect a push to ramp up funding in this area as well as a biotechnology in general. Alternative methods of delivering healthcare, such as telemedicine, will also get big boosts to funding and regulatory jiggering as the country continues to grapple with the pandemic.
Artificial Intelligence
Congressional leaders of both parties have already shown major interest in further investment into R&D. Chinese dominance in this space -- an increasing bipartisan concern -- is driving political interest in AI. AI tech also dovetails with Democrats' interests in developing a smart energy grid to improve energy efficiency/carbon mitigation. However, many Democrats have raised concerns about algorithmic accountability and transparency, especially when it comes to housing, education, criminal justice, lending, employment, and healthcare. The next four years will be characterized not only by heightened investment in AI for all sorts of civil and military purposes, but also a heightened sense of concern about its deployment.
Quantum Computing
The Biden Administration is likely to continue the Trump Administration's strong support for quantum computing. The Biden campaign has outlined plans to propose substantial increases to research budgets across the federal government. In addition the Biden campaign has identified quantum computing as a "breakthrough technology" that would merit significant increases in R&D funding. Quantum computing has received strong bipartisan support in Congress, a trend we expect to continue.
Space
While the Biden Administration is unlikely to roll back the Space Force or abandon the Artemis program, it may make significant adjustments to these and other major space efforts. The Biden campaign has not focused on space, and the contours of a Biden space policy have not yet been developed. One clear goal: increasing NASA's Earth science budget, with a focus on understanding and combating climate change. Congressional Democrats have indicated that they want to see much clearer plans for Low Earth Orbit commercialization and International Space Station transition before they will fund either. They have also indicated that they will approach commercial spaceflight from the perspective of protecting participants.
* Adv. Joeri Kreisberg is a Partner in Yigal Arnon & Co, High Tech Practic; Daniel Ritter is a partner in K&L Gates's public policy and law practice group