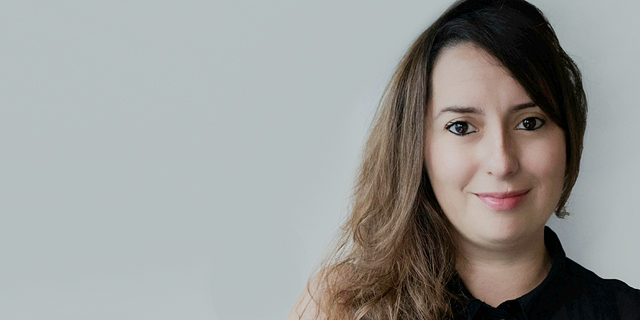 Tech@Work
For 'Aterans' strength lies when they're in a group
Atera's VP of HR, Shani Brounshtein, joined CTech to discuss how the remote-first IT management company keeps its sense of community while working from home
"We do appreciate and acknowledge our strength as a group," says Atera's VP of HR, Shani Brounshtein. "Whether it's to have a valuable brainstorming session, or just to eat breakfast/lunch together, we can't wait to be able to meet, celebrate achievements and have everyone in the same room at the same time."
The 70-strong team, who refer to themselves as 'Aterans', have a strong sense of community among themselves. It was a challenge for Brounshtein to try and maintain that feeling though Covid-19. It started with running a full assessment in February - months before people realized how serious the pandemic was.
Those exercises were crucial in showing us where we had gaps, and what we could learn. For example - we had to purchase dozens of laptops for our R&D employees and provide more robust Internet routers to employees who didn't have sufficient internet speed at home.
As reflected by our values, it was also important for us to be open and transparent as much as possible across the company. We therefore immediately shared guidelines for working from home and completed internal training for our managers so that we were all aligned with the new remote working routine.
Because of our preparation, once the country entered lockdown our employees were equipped for remote work and ready to hit the ground running. Despite the global upheaval both personally and professionally, the productivity and output at Atera remained best-in-class because of the company-wide efforts. These truly paid off - our customers continued to be served and could support business continuity for their own end-users. As a result, I would put the disruption level at around 4. What interesting technological tools do you use in employee management/recruitment? While working remotely, even though they were always a core part of our values, openness and transparency remain crucial. Therefore, in all departments, we continue to make sure that all data is accessible to our employees – from our BI system that provides metrics on company stats, to 15five, the system we work with to manage each department within the company's annual and quarterly OKRs (Objectives & Key Results). We also use Monday boards, where you can view your departments' weekly tasks and even all of the development sprints' content, and we benefit from our own internal "onboarding platform" that we are now working on to simplify and personalize remote onboarding. At all times, we are in a constant process of improvement. We listen to our employees' needs and try to find solutions to their challenges, paying extra attention and sensitivity to the challenges that have arisen during the Covid-19 era. What positive and/or negative impact did the outbreak have on the human capital of the company? We have a name for ourselves, Aterans, and that really highlights how much we feel like a community, a tribe. We are very united, and when the pandemic hit, the comradeship between the people became even more apparent and important. Our employees were supporting each other, both at work and in their personal lives, and it was just wonderful to see this interaction. Of course, the pandemic, especially the lockdown phases, had a heavy mental price on everyone. It's not easy to be home, in some cases – home alone all the time, or in other cases, looking after children who are not going to school, or juggling multiple responsibilities. That's why we decided to support our employees in the wellbeing and mental health fields as well - we kept our weekly Yoga and Pilates classes (now via Zoom), and added workshops for working parents with a parent counselor and even activities for the kids and cooking classes! I will summarize the general atmosphere at the company by this anecdote – a few weeks ago we asked our employees to come up with a slogan that we can use when we post Atera's open positions. The winning slogan was "You deserve to be happy! Join Atera" What are the two major challenges you are coping with these days? The company is going through a very exciting phase. We are growing significantly, and in order to do that we are recruiting, onboarding, having managerial development workshops – all remotely. The other most challenging issue we are handling is maintaining our amazing organizational culture while working from home. Our strength as a company is in our talented people and the interactions between everybody. Are you actively recruiting? If so, what is the process and where can the applicants find you? Atera is growing at the speed of light! Currently, we have a wide variety of open positions available, with new positions being announced every week. By the end of 2021, we plan on hiring about 70 new employees. We are now establishing our AI department and our focus next year is recruiting seasoned Full Stack/Backend (.Net) developers. So, if you're looking for a company where you can dare to do things differently, build with impact and passion and be part of a fun and professional team, just go to our careers page and apply:
https://www.atera.com/careers/
The interview process is quite straightforward: we first do a phone screening, then invite for an interview with the direct manager, HR, and department leader, (lockdown permitting), and in some positions, there's also a home assignment. If someone is interested in working at Atera but hasn't seen a suitable position, we'd be more than happy to receive their CVs for future openings. Which changes forced upon you by the circumstances will stay in place after Covid-19 is over, and which are you most eager to revert back to normal? It's a bit early to decide what will stay in place, as we are still in a process of understanding the current situation. However, we do appreciate and acknowledge our strength as a group – whether it's to have a valuable brainstorming session, or just to eat breakfast/lunch together, so we can't wait to be able to meet, celebrate achievements and have everyone in the same room at the same time, minus the capsules and masks!