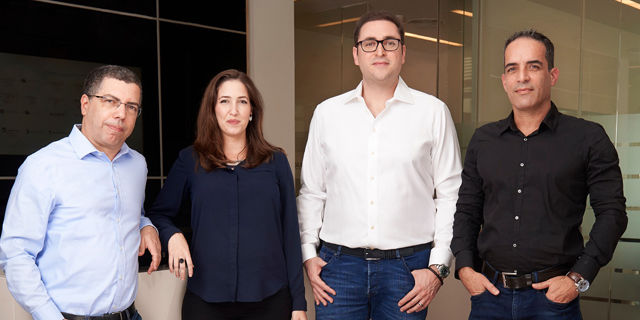 Glilot Partners announces new $170 million fund to invest in growing tech companies
The Israeli VC fund, which until now has focused on startups, plans to invest between $20-$50 million in 15 mature companies; former M12 partner to lead new investments
Meir Orbach
|
16:00 12.01.2021
The Israeli tech sector's rush to invest in growth stage companies was reinforced on Tuesday, with an announcement by Glilot Capital, which until now specialized in early stage tech ventures, that it was launching a new fund focusing on investments in more mature companies. The new $170 million fund, dubbed Glilot+ (Glilot Plus), is earmarked for post-series A enterprise software and cybersecurity companies and will lead or participate in advanced rounds, making investments of between $5-20 million in around 15 companies.
Glilot+ operates in parallel to Glilot's seed fund, which has made investments in six new companies over the past ten months. Glilot+ has already completed several investments and is Glilot Capital's fifth fund to-date, bringing total assets under management to $500 million.
Glilot Capital was established in 2011 by Managing Partners Kobi Samboursky and Arik Kleinstein, with Nofar Amikam later joining as Partner. Kobi, Arik, and Nofar all have extensive experience in establishing and managing startups and have led Glilot's funds to impressive achievements over the last decade.
Glilot+ is led by Lior Litwak, who joins Glilot as Managing Partner after serving as Partner at M12, Microsoft's venture fund. At M12, Litwak invested in 20 companies in Israel and abroad. Notable investments in Israel led by Litwak include Authomize, nsKnox, Zencity and At-Bay. He is an alumnus of the Israel Defense Forces' elite Talpiot program and earned his MBA with Distinction from Harvard Business School. Litwak started his career as an officer in the Intelligence Corps Special Operations Technology Division and later served in R&D leadership and tech-financial advisory roles at data storage giant EMC and investment bank Morgan Stanley.
"After a successful decade, we are expanding our activity and will now be able to support leading companies at every stage of their growth," said Samboursky. "We are very excited to welcome Lior to Glilot. Lior brings significant value to the Fund and we are sure that together we will help leading Israeli companies to achieve new heights," added Arik Kleinstein. "The business world continues to undergo an enormous transformation driven by the expanding adoption of advanced technologies, and young Israeli startups continue to show tremendous potential. We have been very active in venture investing for many years and our experience, knowledge, and relationships will also serve the companies supported by the new fund."
"I am thrilled to join Kobi, Arik, and Nofar at Glilot, one of Israel's top venture capital firms, to lead Glilot+," stated Lior Litwak. "Today, more than ever, Israeli entrepreneurs think big and look to build long-standing independent and global businesses that can dominate their industry. These entrepreneurs understand the immense value in receiving dedicated and tailored professional support during the critical stages of the company's growth - to overcome scale challenges, overtake strong competition, and lead the market. We believe that working with experienced Israeli investors with extensive presence and deep relationships in international markets can uniquely benefit startups in early growth stages. Glilot+ meets the exact needs of these startups through Glilot's structured Value Creation model, community of senior advisors from leading global organizations, and hands-on personal support for the entrepreneurs."