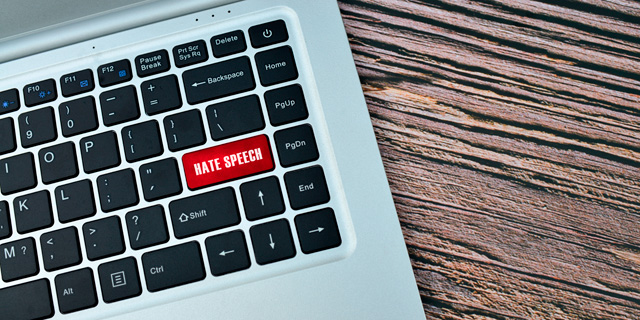 "A coalition of hate": The online extremists that are testing Big Tech
Hate speech has been bubbling on social media and the internet for decades - but it all came to a climax this month at the heart of America's democracy
James Spiro
|
09:30 15.01.2021
As far-Right extremists stormed the nation's Capitol at the start of the month, it was the accumulation of weeks and months of online hate activity across multiple social media platforms. Dr. Gabriel Weimann, a professor of communication at the University of Haifa, has been studying the patterns of extremists and terrorists online and offers some insights on what can be done to tackle the rise of hatred on the internet. "It was clear - the writing was on the wall and in many of our studies we just presented the wall we saw," he told CTech. "We saw many walls, and we saw violent writings on all of them."
A common thread among those who marched in the name of hate and perceived injustice was that they would meet in fringe online communities hosted on platforms such as 8Chan or Parler. These platforms, that pride themselves on enabling free speech and unfiltered communication, are allowing users to "cross a red line" from hate speech to terrorism and inciting violence - something that Professor Weimann explained is a new trend in his research.
CNN reported
that investigators were pursuing signs that the attack on the Capitol had been planned in advance, only hours after the impeachment had already taken place.
For years, social media companies and Big Tech have been put under pressure by advocacy groups that hope to curb some of the violence and hate speech they allow on their platforms. Facebook and Twitter banned Holocaust denial on their platform as recently as October 2020 - and yet three months later a man wore an Auschwitz sweater at the front gates of American democracy. Even as social media companies rush to recategorize Holocaust denial as hate speech and finally remove some of the images and hashtags that plague online forums, for Professor Weimann it is a futile gesture.
The spread of hate online goes beyond the hate speech that runs rampant on their platforms, but in the goods and services that can be purchased online, too. After the image of the Auschwitz sweater went viral around the world, the ADL (Anti-Defamation League) and the World Jewish Congress (WJC) called on companies that operate online marketplaces to "strengthen and better enforce policies banning any product that promotes or glorifies white supremacy, racism, Holocaust denial or trivialization, or any other type of hatred or violence."