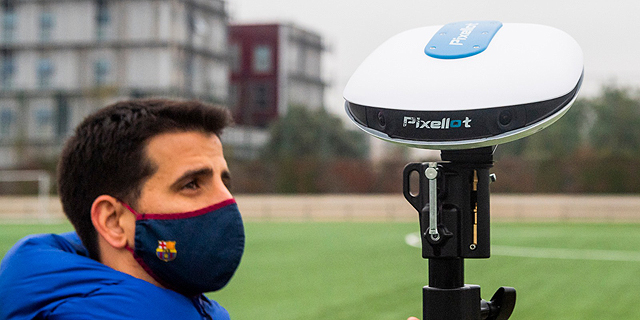 Pixellot launches Air, an AI-automated camera co-developed with FC Barcelona
The portable and lightweight device was specifically designed for grassroots sports academies to help players and coaches with performance analytics
James Spiro
|
13:00 04.03.2021
AI-Automated sports production provider Pixellot announced on Thursday the launch of Pixellot Air, an automated recording and video analysis camera specifically designed to serve grassroots and academies markets. The coaching features of Pixellot Air were developed with the guidance of FC Barcelona in partnership with Barça Innovation Hub, presented during World Football Summit Live in late November of last year.
The device has a dual-camera array and direct cloud uploading functionality means that up to 12 hours of play can be recorded and instantly uploaded without the need for a camera operator, electricity, or even internet connection. After the games, which can take place on any court or pitch, the video is automatically produced available for coding, tagging, and annotating on a coaching platform. Its integration with VidSwap means that coaches can see in-depth analytics and game breakdowns to help their teams gain a competitive advantage.
"We have been starting to use the Pixellot Air with our Club Academy in Barcelona and in our grassroots teams. They provided us with some test units and we helped them develop the solution by assessing and suggesting needed functionalities for our academy teams," he added.
Pixellot was founded in 2013 by Gal Oz and Miky Tamir and has raised more than $82 million, according to Crunchbase. Its systems are currently used by broadcasters, production companies, clubs, and universities around the world, as well as 15,000 courts. Barça Innovation Hub is a Spanish Innovation Hub and divided into three pillars: scientific research, innovation and collaborations with startups, and the dissemination of knowledge.