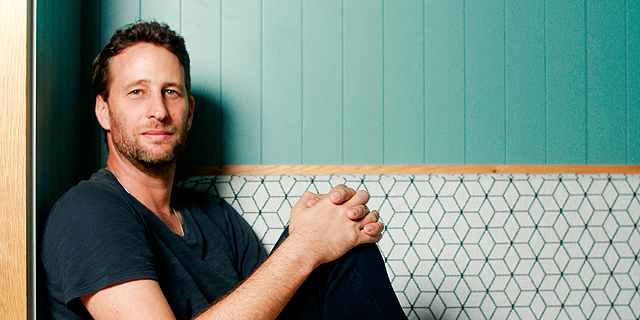 Interview
A diamond in the rough: The story of SimilarWeb founder Or Offer
"I'm really a Cinderella story," says Offer, who got started in business with his parents' jewelry stores and now heads a company worth $1.8 billion. "You want to quit ten times along the way, but you can not because you know you have to get to the finish line"
Sophie Shulman
|
19:20 15.08.2021
On the face of it, SimilarWeb's story may sound just like another familiar story about an Israeli high-tech company that completed a massive IPO. The office of founder and CEO Or Offer looks just like any other office of a successful executive during local high-tech's current heyday. However, on the 40th floor of the Azrieli Sarona tower, on Offer's desk, lies one item, a book on jewelry design, which implies: this story here, is different. "My parents are artists, they are jewelry designers," Offer explained. "All their lives they fought hard to support me and my two little brothers because it is a very unstable career. So immediately after I was released from the military I wanted to help them, and I set up two stores, in Zichron Ya'akov and Netanya, to sell their works and an online store that was supposed to be our highlight. I wanted to build something big, inspired by jewelry empires from abroad or Michal Negrin in Israel. My parents were very skeptical and at every Friday night meal they told me, 'Or, there is no money in jewelry, go to high-tech,' and I said, 'Look at Magnolia, look at Pandora.' Back then they may not have been great, but today they are empires. Pandora (an international Danish jewelry maker) is already trading at a value of $14 billion."
If a technological military service contributes to computer people, Offer explained that combat service contributes to entrepreneurs. "It helped me a lot, including my personality. The experiences I had to deal with during those years, today I know that it was the basis for both entrepreneurship and leadership. During a big part of my service, I was caring for dogs in the south, in an outpost inside the Gaza strip. Being a dog operator is a unique position, even as a young soldier, you join experienced combat forces, you casually speak with brigadiers and lieutenants generals. You need to make quick decisions under pressure and tell them whether to keep moving forward or not. It takes courage and a lot of leadership. This is true not only for me but also for Israeli entrepreneurs in general - they have more courage than CEOs who grow up in Europe, for example. It is not for nothing that in the U.S. a large proportion of entrepreneurs are immigrants.
"So it was a military service not in the technology units that made me more resilient than others, and that's also the feedback I get from those around me. Anyone who hears my story, about running alone for 14 years with product pivots, is surprised I didn't give up in the middle. I'm really a Cinderella story." After his service, he enrolled in school but again did not choose computers. "It was clear to me from a young age that I wanted to be an entrepreneur, and I also did not want a degree that required intensive study. So I only studied business administration at the IDC, three days a week and that's it. I wanted a degree that would allow me to do more." The other things, as mentioned, were the jewelry chain, named Maya Offer, after his mother. But a little over a year after its establishment he suddenly became a tech entrepreneur and handed over the management of the stores to his parents (who have since sold them). SimilarWeb's product went through several incarnations until in 2011 the company changed direction, and since then provides services for digital market analysis - website traffic comparison, number of downloads and app users, and other tools used by both companies and investors, especially hedge funds that want to learn about the startups they are considering investing in. So in the end Offer did what his parents said and got into high tech. In general, his parents are a present part of his life. Offer took them and his brother to the IPO event in New York, saying "they were in ecstasy." It seems that when an entrepreneur does the whole route alone, without co-founders, his silent partners are especially present.