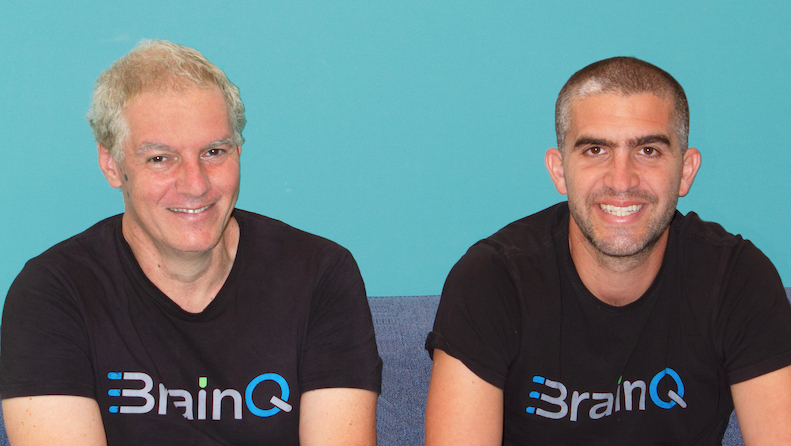 Breakthrough Israeli stroke therapy technology startup BrainQ announces $40 million round
The round was led by Hanaco Ventures, alongside Dexcel Pharma, and Peregrine Ventures, bringing the total funding to over $50 million. Funds to be used to support company's pivotal trials for stroke survivors in U.S. hospitals
Meir Orbach
|
14:00 16.08.2021
Israeli startup BrainQ Technologies, which develops an innovative technology to treat patients who have suffered strokes, announced on Monday that it has completed raising $40 million in a round led by Hanaco Ventures, alongside Dexcel Pharma and Peregrine Ventures with the participation of existing investors OurCrowd, Norma, Sailing Capital, IT Farm, Millhouse, and Qure. This round brings the total funding raised by the company to over $50 million. BrainQ is pioneering a novel therapy for reducing disability and enhancing the recovery potential for stroke victims at home. Its medical device is designed for portable and patient-centric treatment to reduce disability for stroke victims and other patients suffering from neurodisorders. The company is currently in the process of conducting clinical trials in top medical centers in the United States. Its device combines experts from a vast number of backgrounds in neurology, neuroscience, data science, and machine learning.
for its investigational ischemic stroke therapy, which provides the company the opportunity to work closely with the FDA to expedite development plans and premarket clearance as well to access the new Medicare Coverage of Innovative Technology (MCIT) pathway, which will expedite the company's time to receiving insurance coverage.
Stroke is one of the leading causes of disability, affecting 800,000 people every year in the United States alone. In the days and weeks following stroke, the brain attempts to repair damaged neural pathways and develop new ones to restore function, but often with limited success. This results in chronic disability for about 50-70% of survivors. BrainQ's investigational cloud-based technology aims to reduce disability and promote neurorecovery for stroke victims. Using a Brain Computer Interface (BCI)-based approach, the company's frequency-tuned low intensity electromagnetic field therapy is designed to operate based on biological insights retrieved from brainwaves using explanatory machine learning tools. These insights are aimed at imitating the natural processes of neural network synchronization and promoting recovery processes. In addition, the system is designed to allow for scalable and decentralized care via a portable, non-invasive wearable device that is cloud-connected with integrated telemedicine tools that enable remotely monitored sessions through an app and allows patients to receive treatment both in the hospital or at home. In addition to the funding, BrainQ has announced the addition of a new board member, U.S.-based Stacey Pugh, who serves as Chief Commercial Officer of Butterfly Network. Until recently Stacey served as SVP and President of Medtronic's Neurovascular business. During her decade in the stroke sphere, she led efforts to bring clinical evidence and products, including thrombectomy devices - an innovative surgical procedure used to remove blood clots from arteries and veins - to markets around the world. Her addition to the board will further enhance both clinical and stroke market expertise. "While I've had the privilege to be closely involved in some of the largest efforts for influencing stroke care, when it comes to long-term recovery there is still much that can be done to restore patients' health and abilities. I believe that BrainQ's therapies have the potential to make a real difference for stroke sufferers and their families," Pugh commented. "Stroke is a leading cause of adult disability in the US, affecting nearly one million people every year. BrainQ is on the path toward developing therapies that target these disabilities caused by damaged neural networks to facilitate neurorecovery. We firmly believe in the company's innovative technology and talented team, and are happy to support them on their amazing venture," said Pasha Romanovski, who serves as Co-Founding Partner of Hanaco Ventures.
BrainQ Technologies is represented by Advs. Amir Sade, Dr. Oz Halabi and Michal Aiash of the Pearl Cohen law firm.