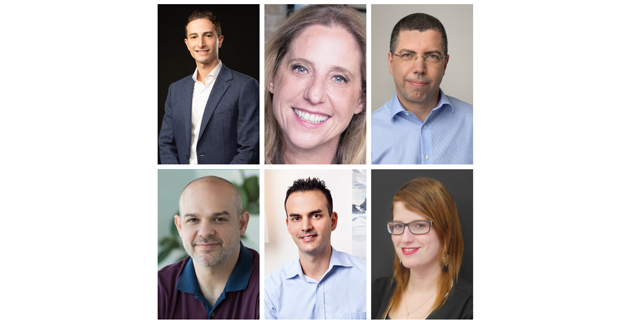 "Israeli tech's next phase will be an era of decacorns"
While not over yet, 2021 has been a record-breaking year for Israeli high-tech. Could 2022 be even better? CTech gathered top investors to find out
Daniel Farber-Ball
|
11:35 13.10.2021
As of today, less than three months to the end of the year, 2021 has already proven to be a record-breaking year for the Israeli high-tech ecosystem.
A long list of companies debuted in New York
, as investments in Israeli tech in the first three quarters of the year
reached $17.78 billion, an increase of 71%
on the amount raised throughout all of 2020. Naturally, as the year is coming to an end, discussions about the next one already arise. Will 2022 and the following years continue in the same line? Will the same companies continue to thrive? Or will newcomers take the lead? And could we see an inherent change within the Israeli economy pivoting from a "startup nation" to a "scaleup nation?" To answer these questions we asked six investors to gaze into their crystal ball and share what they see, what major trends they believe could materialize, and where they are looking for the next big thing.
What fields will the major growth-stage companies come from in the next few years?
"The construction industry is the second least digitized industry, so we expect to see major growth in construction technology. Digital tools can meaningfully fill knowledge gaps around time estimation, project coordination, materials management, etc. which are otherwise costly if performed inefficiently. Covid-19 tailwinds have effectively created catch-up revenue in the near term and a greater need for owners/general contractors to maximize profit by optimizing efficiency and minimizing project timelines, all of which can be enabled by software. We can also expect to see growth in manufacturing automation. The rapid proliferation of Industrial IoT sensor data is driving greater demand for digitization, analytics, and AI/ML tools to drive automation." When asked about how some fields within the market are perceived, Aronovitz argued "social crypto is underrated at the moment," also noting that "the rise of cryptocurrency usage and infrastructure will lower the barrier for individuals to become investors or owners. Digitization of the financial system is happening as regulatory bodies define governing standards, additional use cases emerge for digital assets such as NFTs, and institutional readiness is achieved."
Is Israel turning from a startup nation to a scaleup nation? Or will it be both?
"Israel has been the startup nation for so long, but it is now emerging as the scaleup nation and as a firm that has been focused on supporting software scaleups for over 25 years, we are really proud to have played our part in this evolution in the Israeli ecosystem. With businesses being globally minded from day one, Israeli startups are graduating to be enterprise-ready scaleups much sooner than in other hubs. The speed at which this transition to scaleup nation has occurred in such a small population is a testament to the tenacity and perseverance of its individuals and teams. The next generation of innovators have a can-achieve-anything mindset and are building lasting companies with quantifiable value and breadth." Arik Kleinstein, Founding Managing Partner, Glilot Capital Partners "We now have a new generation of dozens of founders that aspire and know how to grow big companies, and that applies to all fields of technology," Arik Kleinstein, Founding Managing Partner at Glilot Capital Partners stated. He continued by noting that "as more Israeli Technology companies mature, we will see more companies electing to go public at least at an increasing pace as we have seen during the past year." Which fields should we keep an eye on for the next big exit? "We will continue to see big exits in the fields that yielded them in the last years namely cybersecurity, AI-based applications, big data Infrastructure, and technology-based fintech, but I believe that we will see also success stories in areas that are currently not attracting major investments like cultured meat, digital health, and agrotech." Kleinstein also named "long lasting-impact sectors" such as environmental sustainability and healthcare as underrated.
Rona Segev, Managing Partner, TLV Partners
"I wouldn't focus on specific sectors, but rather the long list of maturing companies that exist in Israel," argued Rona Segev, Managing Partner at TLV Partners. "The next meaningful liquidity events will stem from these companies. The beauty of our local ecosystem is that we are not one-dimensional or even two-dimensional. We are as diverse as Silicon Valley, New York, London, or others."
"Israel will continue to create innovation at a high speed, as we continue to see large numbers of young companies every quarter," Segev noted, while also addressing the growing presence of large companies. "There is not a doubt that in the past few years we have witnessed the rise of big companies here more significantly, which is fascinating and helps bring the entire ecosystem to a whole new level."
Should there be concerns that fewer funds are directed at seed and pre-seed companies, aiming at growth-stage companies?
"No, at the end of the day, an incredible amount of value awaits the early-stage investors that can work with the best companies from day one. If anything, there will be more funds directed towards early-stage companies."
When asked where she is looking for the next early-stage investment, Segev explained that "while we do have areas of focus like cloud infrastructure, fintech, the data stack and more, we pride ourselves at not claiming to be prophets. Founders know best which fields are interesting, as we focus all of our efforts on making sure that we are the right partners for these founders to work with."
What fields will the major growth-stage companies come from in the next few years?
"It is hard to say. But we have definitely seen a significant increase in the volume of deals in the fintech and data stack spaces recently, specifically from very high-quality founders. Usually, the quality of founders is the leading indicator for this."
Discussing the successful wave of Israeli companies who went through big IPOs and SPAC mergers in the past year, Segev described a mixed future. "We believe that the portion of SPACs, out of all companies that go public, will grow smaller over time. We recently looked at the numbers from the past year, and maybe it will change over time, but it is very clear that classic IPO companies and their stocks are performing much better in general than SPACs."
"We believe that we will continue to see more mature companies going public in the next two to three years and more. There are at this specific moment probably ten or more companies that show great numbers and we believe are ready to go public."
Yanai Oron, General Partner, Vertex Ventures
"There are now plenty of $1 billion to $10 billion companies with offices based in Israel, which shows there is a lot of room for Israeli startups to stay independent and grow," argued Yanai Oron, General Partner at Vertex Ventures. "At the same time, there is a healthy market for those startups that are not fit to be independent, or are valued more for a strategic buyer, or an acquihire." When asked where he thinks the next big exit could come from, Oron apologized he might "sound boring, but enterprise software is where plenty of Israeli companies are experiencing tremendous growth, and we can expect quite a few successful IPOs." Are there any sectors or fields you consider to be wrongfully underrated or overlooked by investors? "Human Resource software and solutions have been overlooked, and while this is changing a bit, it is still an area most investors are shying away from. Searching for and keeping talent are absolutely the number one issue startups and companies are facing and I believe this is an area ripe for new solutions. We have made two investments in this space over the past few months. Joonko, which helps companies hire high-quality, underrepresented talent, and Growthspace, which helps talent with personalized growth and development."
"Israeli entrepreneurs' ambition is growing and therefore we expect to see more companies going public rather than getting acquired, thus controlling their own destiny," Omry Ben David, General Partner at Viola Ventures, noted. "Going public extends the runway for staying independent, it provides liquidity, enhances the brand, and also introduces a currency for acquisitions, fueling further growth."
"We strongly believe that Israel has solidified itself as a unicorn powerhouse and its next phase will be an era of decacorns. We already see examples with ironSource, Pagaya, Wix, Monday, and others. To balance that, the ecosystem needs to continue and support seed-stage startups so the virtuous cycle lives on. That's the next-gen innovation and where we at Viola Ventures are focused, we see plenty of exceptional entrepreneurs that are up for this challenge," he concluded.
Batsheva Moshe, Head of Poalim Hi-Tech at Bank Hapoalim "We will see a higher number of successful growth companies and unicorns in the future with revenue of tens or hundreds of millions annually. Obviously, this is amazing and will have a great impact on Israel's economy," that is according to Batsheva Moshe, Head of Poalim Hi-Tech. Moshe did note "that the number of new startups established each year has decreased over the past few years. "Although, I think quality is more important than quantity. Hence, the percentage of early-stage startups raising capital will be higher than in the past, so we can expect a higher survival rate for new companies."
"Of course, the government can and should continue to encourage investors to invest at an early stage, and there are many ways to do so. I see that the Innovation Authority is coming up with new programs all the time. Keeping up with that is imperative. I am not exaggerating when I say this matter will determine Israel's future."
Which fields are you expecting to dominate in seed and pre-seed investments in the next few years?
"Deeptech, Cloud, Fintech, Cyber, AI, Internet companies in general, and of course Gaming." As for future exits to watch for, Moshe nodded to "digital health, however, maybe with different business models than we see today," as well as naming cleantech as a sector on the rise, "otherwise, our children will not survive the world we are leaving them." Fintech, Blockchain, and automotive technologies are also on her watch list.
Are there any sectors or fields you consider to be wrongfully underrated or overlooked by investors?
"Consumer. I think we will see more and more consumer companies (B2C) reaching unicorn status. It is a tough field, because the scale is much more challenging in comparison to B2B companies, but I believe we will see much more." As for sectors that are perhaps overrated Moshe noted that "automotive valuation is excessively high, with no rational ratio to revenues or potential revenues in the short term. There has already been a dramatic drop in the price of stocks of automotive companies that went through a SPAC merger this year. We still have a long way to go before we will see millions of people drive autonomous cars, and I believe that it is reflected in the pricing of those companies."
Do you expect we will continue to see IPO and SPAC mergers at the same rate and size in the next few years?
"In my opinion, SPACs will undergo some more corrections and regulations or will fade, because investors will lose faith in them, and criticism towards companies that use them to go public will rise, as we already see happening. However, as long as the markets are high and interest is low, the number of IPOs will increase." "New forms and vehicles involving small and unaccredited investors should be developed. The fact that most people do not take part in tech's financial success, the fact that most of our pensions are not exposed to tech aside from public companies, and the fact that there are almost no other options for small investors to invest in startups or VCs mean that this market has a huge potential for new money," Moshe argued. "Furthermore, I believe the Israeli stock exchange will add new avenues to expand the IPO trade in the short-term. There are great leaders there who want to continue this trend and attract more tech companies."