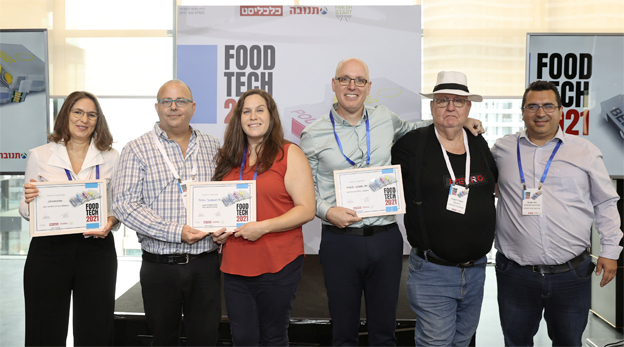 Cultured meat takes center stage at Calcalist and Tnuva FoodTech 2021 competition
First place winner, ProFuse Technology, and second place Alfred's Food-Tech both operate in the cultured meat field. "Israel is becoming a powerhouse in the field of foodtech and agrotech," said Tnuva CEO
Maayan Manela
|
12:38 19.10.2021
Biotech startup ProFuse Technology is the big winner of FoodTech 2021 after claiming first place in the final event of the competition organized by Calcalist and Tnuva. ProFuse will receive up to $100,000 for commercial assimilation of its technology in Tnuva or as an investment, and up to NIS 50,000 for advertising on Calcalist Digital. The Israeli company uses a development from the Weizmann Institute that enables the acceleration of growth of meat and muscle cells, thus helping companies in the cultured meat industry increase production. "The cultured meat sector is one of the most prosperous in the food substitutes industry and is expected to reach a turnover of $630 billion by 2040. One of the major challenges in the cultured meat industry is slow production, which affects production costs. We are working to reduce the costs of a kilo (2.2 pounds) of cultured meat from more than a thousand dollars to only about five dollars," said Dr. Tamar Eigler-Hirsh, ProFuse founder and CTO. According to her, the technology developed by the company is based on six years of research at the Weizmann Institute, in which the distinction of muscle designation was discovered. "We deliver a product in a shorter time, cheaper and with a better texture. Our product is designed to reduce the cost of cultured meat by 30%."
Tnuva and Calcalist's FoodTech 2021 innovation competition started with dozens of applications, with 11 startups being chosen to compete in its final which took place at the Pop&Pope complex in Tel Aviv. Competitors were focused on technological developments in the foodtech sector in areas such as cultured food and cultivated meat, circular economics, marketing and personalization, supply chain needs, and even industry 4.0. The diversity in the competition attested to the growing dominance of the Israeli high-tech food industry and reflected the impact that such technologies have on the world's future.
The competition's judges included Yoel Esteron, Calcalist's publisher, Eyal Melis, CEO of Tnuva, Anya Eldan, VP of Startup and Business Development at the Israel Innovation Authority, Dr. Tali Feldman-Sivan, an entrepreneur in the fields of foodtech, pharma, and medical devices, Eyal Rosenthal, Investment Director at Finistere Ventures, Dr. Tammy Meiron, CTO of the Fresh Start FoodTech Incubator. Nir Goldstein, CEO of the Good Food institute - Israel, David Sokolic, managing partner at OurCrowd, Prof. Ayelet Fishman, Dean and faculty member at the Technion Institute of Technology's Biotechnology and Food Engineering Department, Ron Zadok, Technology Partner, Head of Foodtech & Agtech at KPMG Somekh Chaikn, and Shai Cohen, CINO, Tnuva.