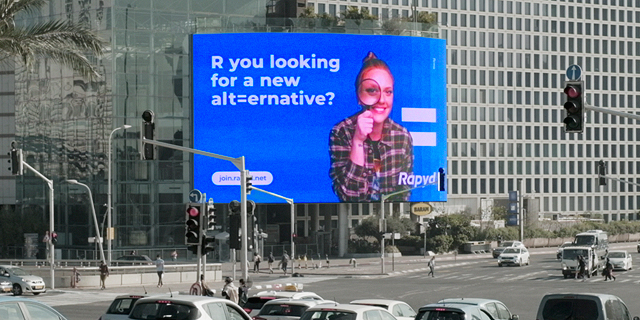 Hunting season: The escalating tech recruitment war
Huge billboards, parties, massive bonuses, viral videos, and vacations. The battle for tech talent has reached "madness" levels but is it all necessary or are there egos at play?
Diana Bahur-Nir
|
16:08 29.10.2021
The majority of Israelis, those who do not work in high-tech, have been quite confused for some weeks now. Over recent days, the Ayalon Highway, which runs through the heart of the country's center, has been flooded with Amdocs billboards. Before that, it was gaming company Overwolf, cybersecurity giant Palo Alto, Playtika, Rapyd, Similarweb, and even venture-capital fund Group 11.
The use of billboards and campaigns by tech companies is not completely new, in recent years a handful of companies, sporadically, used this strategy. But now these giant ads, which cost millions of shekels, are everywhere, and with the stated goal of recruiting. Those who are not in tech may wonder who exactly chooses to work for a particular company because of a billboard, but those in the know have a clear understanding of the situation - we are at the height of the hunting season, and the pursuit after every employee takes place on every possible front, even on the side of the road, with the end justifying every possible means.
Madness and its synonyms often come up again and again in conversations with high-tech people about the current situation. A frenzy of big money flowing into more and more companies, more and more unicorns. An insane shortage of workers as huge R&D centers are launching, companies are expanding, and everyone is looking for workers for a variety of positions, but finding none. Companies are "stealing" employees or trying to woo candidates who are debating between several options, and since the industry is flooded with capital, there is a great deal of money invested in the matter, and the options are limitless, with the madness evident in the scope of recruitment means.
The upper mentioned "bring your friend" method, for example, is a common reward method that existed in high-tech for years, however, the bonuses have never been so high. Some are still relatively small, the e-commerce company Roundforest, which is currently recruiting about 70 employees, promised on social media an iPhone 13 for those who help it recruit a product VP, and pays NIS 8,000 ($2,500) to employees who bring new hires. At Simplify the incentive is between $2,000 to $10,000, sometimes plus a new iPhone, and sometimes the reward is converted to a vacation abroad at a similar value. Amdocs pays between $5,000 to $10,000 upon the hiring of a new recruit but also rewards with gift cards the very transfer of a resume or when a candidate comes for an interview. "Bring your friend" method generates about 40% of our recruitments, and when we focus our efforts and raise the rewards, it increases to more than 50%," said Eti Raihenshtein, Amdocs' recruitment director in Israel.
500plus is publicly traded in London and employs about 200 people locally and another 300 in subsidiaries around the world. If you walked into its Haifa conference room this past Tuesday at 9:30am, you would find a table with a glorious breakfast, surrounded by software engineers and their computers, all on LinkedIn, and hovering around them is the company's HR staff. Music is playing in the background, and a list of dozens of open positions at the company is displayed on a big screen. The engineers, who are supposed to engage in R&D, are immersed for two hours in recruitment. "It is completely hunting," admits Eden Dahan, the company's human resources manager in Israel.
During LinkedIn parties, employees locate potential candidates among their acquaintances on the social network and reach out to them in person. "It brings people with the same DNA as our employees, we had three parties so far and recruited seven people, and there are ten employees who received bonuses of NIS 20,000 (more than $6,000) each," Dahan said. After the initial conversation, the HR staff goes to work. "We are not giving up on anyone here. We even convinced someone who had already signed with Microsoft, myself and one of the VPs worked on it, and if necessary the CEO will also meet a candidate who is on the fence. I have no choice, we are growing exponentially, but candidates have so many options, they want lavish salaries and an easier life, for example wanting to avoid our screening day, even if it can be done from home. In the end, I will not lose them to Amazon or Microsoft over money."
Meaning the majority are eventually recruited not through company employees but other methods?
"True, however, recruiting through your employees is efficient. We did, for example, a Mexican-style LinkedIn party, hats, tacos, music, a whole atmosphere, and for an hour and a half the employees were focused on sending personal messages to the people they wanted to work with. We get resumes like this, and employees earn points that accumulate for meals at expensive restaurants or even for vacations, and they constantly ask about candidates they brought in, what happened with them, where they are in the process." They want the reward. "Yes, but they also want to work with their friends." Grilling and recruiting
Cyber company Orca Security is valued at $1.8 billion, it employs 200 people in Israel and is now looking for another 30 at least, and every Sunday at 12:30pm., it hosts a big barbecue on the roof of its office in south Tel Aviv. Meats, beer, and potential employees are all on the menu. "People know what it is like to work in an unpleasant place. There is an advantage in working with people you love and who you would like to have a beer with," said Gil Gron, one of the company founders. "There are good offers in many places, and reward is no longer the main factor. You spend a lot of hours at work, and there is concern about how it will be, how will you get along with people, it is a fear that can not be resolved in a job interview. So we found a way to let a candidate experience the family atmosphere in the company. I estimate that if the candidate already came to the barbeque, that increases the chances of them joining the company by 50%, and it has already led us to hire more than ten people."
In such a situation, does a start-up like you have an advantage or a disadvantage over the huge competitors?
"Start-ups are more flexible, have fewer admissions processes, and even among the candidates, there are those who are looking for the dynamism of a young company. So I think it is easier for start-ups at the moment."
700% increase in the number of resumes The matter of start-up companies versus the tech giants is a major issue, one that drives both the employment battle and the war over a company's image, which takes place on the side of the road, and on social media. "In the past year, a lot of money has gone into high-tech and huge companies are setting up R&D centers. Only Microsoft, for example, plans to recruit 2,500 employees in the coming years," said Sorek, who is the man behind the Overwolf's signs that popped up in recent weeks. "How can you be a startup when everyone is competing with you over developers? That is one of the reasons we ran this campaign." But how do billboards help you in a battle for developers? "The goal is to generate a discussion, the main thing is that we are being talked about. We want to reach out to the high-tech people, but also their surrondings, their family members, mom and dad. There is no doubt that this is a show of force, a statement saying 'we are here,' but it is also effective at an immediate level. We saw a 700% increase in the number of resumes we received because of this campaign." Overwolf has been around since 2011 and has about 100 workers, but along the highway, it is up against Amdocs, a 40-year-old giant that is traded on the NASDAQ at a value of more than $10 billion and employs 5,000 people in Israel and another 25,000 worldwide. And Amdocs also targets the candidates' parents. "Billboards have a wide effect, your dad or your girlfriend sees the sign and talks about it at dinner," said Gil Rosen, Amdocs' CMO. "It is a conversation that is hard to create online. Even if the employee himself can be targeted by digital means, billboards and television are what affect the consciousness in Israel. Everyone drives on Ayalon, and I want to reach audiences that affect the employees, not just the employees themselves."
More than a few industry leaders we spoke with expressed reservations about the billboards. "I preferred to take the employees on vacation in the Maldives, it seemed to me a better investment than billboards," said Eynat Guez, CEO and founder of the fintech company Papaya Global. The employees were filmed on holiday, and appeared on the company's viral video, the point of which was, quite explicitly - 'we do not invest in billboards, we invest in our workforce'.
So no billboards, but you did run a campaign on television and social media, featuring company employees and their parents. "Yes, because you have to grab the attention. Corporations make an effort to look cool, and everyone has to flex some muscle at a time when there is a lot of money in the industry and all companies need to grow fast in all areas. You have to stand out somehow."