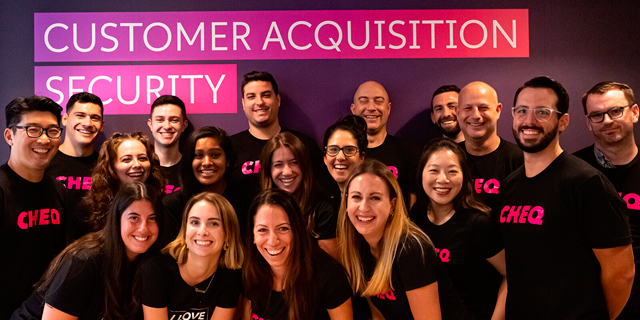 IL Tech in NY
"Imagine Wall Street meets Silicon Valley all under one rooftop – that's New York"
In collaboration with Israeli Mapped in NY, CHEQ has joined CTech to share some tips about moving to the Big Apple
"New York has always been a major global business hub, with strong traditional sectors like finance and retail. But in more recent times, the city has managed to become a leading tech hub, spanning all key sectors from SaaS, to Cloud, Cyber, Fintech, and eCommerce," Guy Tytunovich, Founder and CEO of CHEQ. "Imagine Wall Street meets Silicon Valley all under one rooftop – that's New York today, and it's an exciting place to operate for any high-growth tech company."
What does starting an American office mean for Israeli companies? "It means access to great, highly experienced talent, proximity to go-to-market decision-makers at the biggest companies in the world alongside their agencies and consulting firms, and even a great investors community," he explained.
CHEQ has joined CTech for its IL Tech in NY project to discuss some of the things to look out for when Israelis decide to move overseas
Company name: CHEQ
Field of activity/product: Cybersecurity
Founders: Guy Tytunovich, Ehud Levy, and Asaf Botovsky
Year of founding/start of New York operations: Founded 2016, with the start of New York operations in 2019
Number of employees and whether the company is active in other locations: 150 employees across four locations (New York City, Tel Aviv, Tokyo, and London)
Sum of total funding to date/funding rounds completed: $55 Million over two rounds completed
Names of investors/VC backers: Battery Ventures, Hanaco Ventures, MizMaa Ventures, and Phoenix Insurance
General background on the founders/senior managers:
Guy Tytunovich, Founder & CEO: After founding CHEQ in 2016, we began to hit rapid growth, prompting us to open our U.S office in New York. We felt New York City was a no-brainer, especially for a high-growth SaaS company that requires world-class talent in Enterprise Sales, Customer Success, and Marketing. For the past few years, I've been back and forth between Tel Aviv and New York, allowing me to oversee senior leadership hires on the U.S team while ensuring we're building a local operation that matches the ambitious, high-paced spirit of CHEQ.
Omri Tamir, COO: I came to New York City six years ago as part of the early Datorama team, where I helped navigate the company through high growth scaling until Salesforce acquired the company in 2018. After leading the post-merger integration as a VP in Salesforce, it was time for me to play a role in building yet another great Israeli SaaS company and when I met the CHEQ founders here in New York, I knew immediately I'd found my next challenge.
Daniel Avital, CSO: I came to New York City around two years ago, as our New York operation was starting to grow at a rapid pace. Being here allowed me to help ensure our global CHEQ values and DNA would be implemented at the local level while maintaining a strong line of communication with fellow management back in Israel.
Background on the product/service/platform/solution:
Guy: With over 40% of all internet traffic coming from malicious bots, automation tools, fake accounts, click farms, and other invalid sources, the world's leading organizations turn to CHEQ to secure their marketing efforts from invalid traffic. As a pioneer of cybersecurity for marketing, CHEQ provides the first full-suite marketing security platform, trusted today by over 10,000 customers worldwide. With CHEQ, marketers protect their paid marketing, on-site conversion efforts, BI, and analytics systems from being disrupted by invalid traffic, helping ensure marketing budgets, measurement, and business performance aren't harmed or skewed by bots and fake visitors.
Why New York? What advantages does it offer?
Guy: New York has always been a major global business hub, with strong traditional sectors like finance and retail. But in more recent times, the city has managed to become a leading tech hub, spanning all key sectors from SaaS, to Cloud, Cyber, Fintech, and eCommerce. Imagine Wall Street meets Silicon Valley all under one rooftop – that's New York today, and it's an exciting place to operate for any high-growth tech company. What does all this entail for companies looking to build a U.S presence? It means access to great, highly experienced talent, proximity to go-to-market decision-makers at the biggest companies in the world alongside their agencies and consulting firms, and even a great investors community.
For Israeli companies specifically, New York offers a few additional unique advantages which make it highly attractive. For one, it's strategically located, allowing for daily communication with both the West Coast, as well as Tel Aviv and other major European business hubs. Another advantage is that New York makes Israelis feel at home, with a Jewish population of over 1.5 million and a huge Israeli scene. These unique attributes have driven more and more Israeli tech companies to set up shop in New York, helping create a massive Israeli hi-tech community, which in turn makes the move to New York even more appealing.
Two suggestions for Israeli entrepreneurs on what to do in New York:
Omri: The first suggestion would be to take advantage of the local Israeli hi-tech ecosystem. There is a strong network of world-class Israeli companies who have access to great talent, knowledge, and investors, and are more than happy to aid their fellow Israeli entrepreneurs. You can attend professional meetups, connect through events, and even socialize, you'd be surprised how supportive the community can be.
Another suggestion would be to build a hybrid Israeli American leadership team. Of course, you want local leaders who know the market, but you also want the local leadership to include some Israeli executives who can help bridge gaps and make communications with the Israel office smoother and more harmonious.
Two suggestions for Israeli entrepreneurs on what not to do in New York:
Omri: The biggest mistake Israeli companies make is rushing to "open a New York City office" prematurely. Let's be clear, hiring a local consultant to help enter the market is not tantamount to "opening an office" and is unlikely to produce positive results. New York is the major league, and scaling up here means you need the infrastructure, resources, personal, expertise, capital, and organizational maturity. So, make sure you tick those boxes before committing to such a move.
Another common mistake is trying to build an "Israeli office" in New York. While we stand by our recommendation to include Israeli executives on the team, the office should take on its own unique form, hiring local talent and adopting the local culture, work processes, and norms. This doesn't mean that the office can't be part of the company's global culture and share its DNA, but it's always recommended to let it develop its own local character.
On a scale of 1-10 how much did the Covid pandemic impact your work?
Daniel: At CHEQ we were fortunate to experience tremendous growth throughout the pandemic, despite the negative impact on certain sectors. Crisis also breeds opportunity when companies can be agile and adapt quickly. For example, while brick and mortar businesses suffered, there was a surge in online business activity and eCommerce, which CHEQ helps secure from bots, fake users, and malicious activity. Another example relates to internal work processes. While key elements of the pre-pandemic office environment are missing, we've also seen great productivity from our teams, who've managed to quickly adapt to the new reality, building out new work processes and frameworks to support remote work. And now that the situation on the ground is continuously edging back towards normalcy, we're enjoying the best of both worlds, with people returning to a collaborative office environment while retaining the flexibility of remote work.
What are the differences when it comes to recruiting employees?
Daniel: Ultimately, recruiting principles are universal and people want to join an organization with great leadership, strong tech, good product-market-fit, vision, momentum, and potential. This is true both in Tel Aviv and in New York, regardless of job title or seniority.
What are some of the workplace culture differences between Israel and New York?
Omri: The New York workplace culture is pretty similar to the Tel Aviv one. It's a vibrant, high-energy environment, with smart, ambitious, and bold individuals who are looking to build big and make an impact. What does that look like? Lots of positive competitive energy, high-paced growth, dynamic working environments, a strong social aspect with drinks after work and company gatherings, and ultimately a sense of pride in what you do and who you work for.
The IL Tech in NY project is a collaboration between CTech and Israeli Mapped in NY. For more information email Guy Franklin via this link.