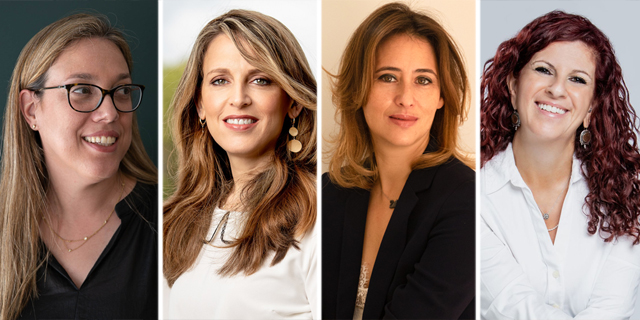 "We can achieve gender diversity in tech without compromising on skills"
CTech caught up with Noa Zabar, CFO at Artlist; Kineret Karin, Co-Founder and COO at Rider Dome; Racheli Ganot, Founder and CEO of Rachip; and Hanna Yanovsky, GM and CRO at Caja Robotics, to hear their solutions on bringing more women into tech
Allon Sinai
|
13:54 25.11.2021
Should the percentage of women employees in tech be artificially inflated, or should the hiring process only be skill-based? What are the advantages of having women in key roles and can an influx of women into tech solve the Israeli workforce shortage? CTech presented all of these questions over recent weeks, and more, to nine women serving in senior roles in Israeli tech companies. Featured in Part 1 of this special project are Noa Zabar, CFO at Artlist; Kineret Karin, Co-Founder and COO at Rider Dome; Racheli Ganot, Founder and CEO of Rachip; and Hanna Yanovsky, GM and CRO at Caja Robotics.
Karin insisted that having more females in hi-tech will not solve the manpower problem, although it can certainly help. "Government should invest more in the peripheral areas to stimulate females and males to study relevant courses that are needed in hi-tech companies," she said.
Ganot echoed a similar sentiment. "Gender diversity is an important part in solving the shortage of talent in high-tech. Rachip has been applying this agenda for 15 years with a focus on Haredi (Ultra-Orthodox) women in areas of software and semiconductors development. The diversity creates an advantage for the companies. The variety of points of view, opinions and approaches lead to the proven success. More women in high-tech is just one of the solutions to the shortage in technical talent. The education effort applies to all sectors and is probably the most effective investment in bridging the availability of talent gap."