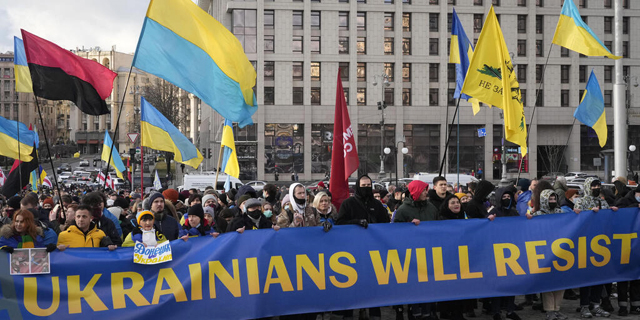 Israeli tech companies are bracing for Ukrainian crisis escalation
Numerous Israeli companies have R&D centers in Ukraine and some are already relocating employees due to the fear from a potential Russian invasion
Maayan Manela
|
09:14 15.02.2022
With growing concerns regarding potential Russian plans to invade Ukraine, and with NATO countries threatening sanctions, Israeli high tech companies who employ workers in Ukraine - mainly engineers and software developers - are now on high alert and prepared for any possible scenario. And while life in Ukraine is carrying on, some companies have claimed the tensions have led to a decline in their output, while others are claiming that the atmosphere airs business as usual, and not only in the workplace but also on the streets and in local entertainment venues.
"In addition, all of our employees are eligible to receive services from our Be Well program, where they can receive support for a variety of private issues including psychological help. Employees or their families can call a phone number in their country of residence and undergo a preliminary chat with a professional who spots their exact need, and can provide them immediately with psychological help. Afterward, if the employee chooses to undergo long-term therapy, he or she can turn to a professional who will provide them with those services over an extended period. Sessions take place either over Zoom, the phone, or face to face, in accordance with limitations," she says.
WalkMe also has a similar story: one employee requested to leave Ukraine and be transferred to nearby Moldova, while the rest have chosen to remain in Ukraine and maintain their routine. "We opened up our Ukrainian branch a few months ago, and now employ 45 people there as part of our development team. Aside from that, we permit our employees to use the hybrid work model, but still feel responsible to take care of them and their families as far as the security situation is concerned," said Ofer Karp, EVP of Engineering at WalkMe. "Our Israeli teams remain in constant contact with their Ukrainian counterparts; our management teams are conducting ongoing discussions with them, both in the mornings and evenings, and also to ensure that we are updated with regard to their situation and are providing solutions to their emerging needs. We also want to instill confidence and make sure they know that we are here and will do everything we can to help them," he says. "We are alert that the ongoing situation in Ukraine could lead to financial disruptions, such as government-imposed limitations on credit card expenses. Banks could also limit how much cash a person could withdraw. Currently, we're devoting our efforts to devising solutions in order to ensure that our employees will be able to cope with whatever happens, and want to remove their apprehension." BigID is also prepared for what might happen next. The company develops a platform for managing and enforcing online information privacy policies, and also operates an R&D center in Ukraine, employing dozens of workers through a local company. "About a month ago we asked our employees how they'd like us to help. We conducted a survey to examine what their preferences were, whether they'd prefer we assist them with relocation, and if so, to where. Our survey found that most people consider relocating an ideal solution. To that effect, we built a dedicated, solid plan, which can be implemented if necessary. At the beginning, everything appeared very stressful and people expressed a sudden desire to leave. But over the past few weeks, we've seen them calm down. We're still maintaining close contact and want to help them as much as we can. We still have ongoing day-to-day discussions on the matter," said Nimrod Vax, co-founder of BigID who also manages the company's operations in Israel.