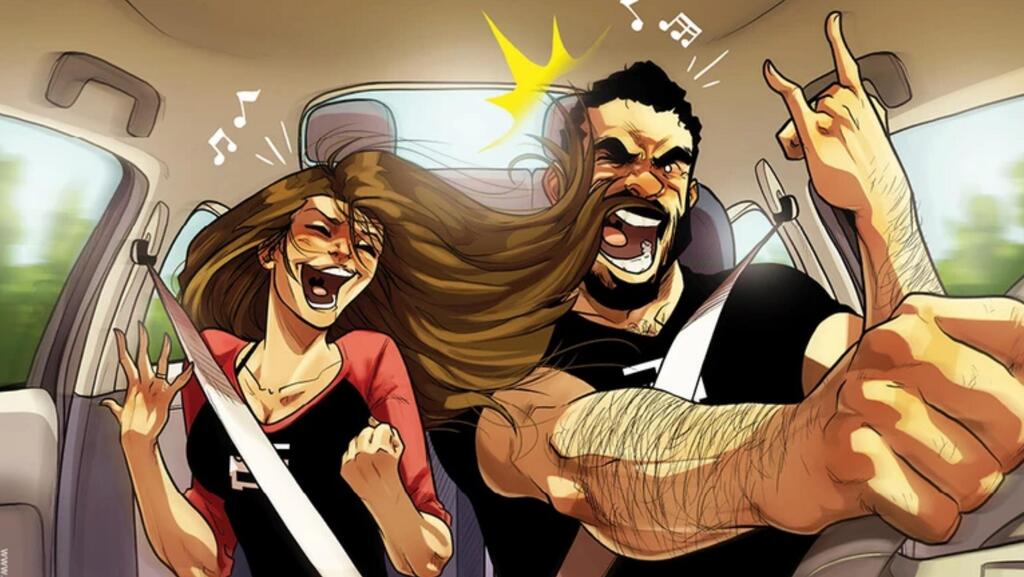 Viral Israeli artists entering NFT space with 'xoxo'
Maya and Yehuda Devir have amassed a following of millions with their "One of Those Days" series. Now they're taking their work to the blockchain
James Spiro
|
12:16 07.04.2022
Those who are fans of viral comic-style images on social media might have once come across the work of Israeli couple Maya and Yehuda Devir. For five years, their imaginative and intimate visual art series "One of Those Days" has captured the hearts of millions who enjoy tracking the couple through drawings of their everyday life. Whether it was doing the washing up after dinner or following a journey of pregnancy and parenthood, more than 9 million social media fans have been captured by their candidness.
This month, a new website will be launched to celebrate their move into the NFT space with a new series called "xoxo" with the help of Israeli technological and marketing company PickCherry, co-founded by Israeli TV superstars Rotem Sela and Assi Azar, together with CEO Ido Regev and Smadar Regev. The hope is that the couple will be able to sell new artwork on the blockchain and help give back to the community they credit for their success.


"We were successful on social media, we had a brand that works and makes money, we were stable for years, so why move to NFTs?" asked Maya, one-half of the duo when speaking to CTech. "We did our homework and understood what an NFT is and what it means for us. I don't know the world's perception of it but for us as digital artists, it was completely different from what people described to us… we understood that the NFT is a technology that allows us, digital artists, to create a digital asset like an original piece. For us, as digital artists, it never existed."
NFTs - non-fungible tokens - have taken the art and tech worlds by storm in recent months. For the layman, they can be described as a non-interchangeable unit of data stored on the blockchain that can be sold or traded. The possibility of buying data as if it were a physical item is attractive to those in the media or visual art space that typically trade things like photos, videos, or artwork. In recent months, prominent artists have entered the space such as Hollywood film director and Israeli resident Quentin Tarantino, as well as American comic book writer and filmmaker Kevin Smith.
"Our audience changed our lives - they made us who we are today," Maya said. "We can now create art and mint it as an NFT and actually give them an opportunity to get something that today they can afford and maybe in a few months or years from now, it can change their lives like they changed ours."
Fans will typically recognize the work of Maya and Yehuda Devir from the "One of Those Days" series. It started five years ago when the couple, who were recently married after meeting in the IDF and attending Bezalel Academy of Art and Design in Jerusalem together, were in search of an apartment in Tel Aviv. The very first sketch was for a Facebook group that told the story of newlyweds looking for a home. Fast-forward and now their audience of millions came to expect a new post every Thursday at 5pm - until they paused in December 2021 to focus solely on "xoxo" with PickCherry.
"After drawing for five years the same kind of art style, I always wanted to have the opportunity to show our community the real power and strength and the talent that we both have that's not just to be funny and to know how to convey a message in a funny and relatable way," explained Yehuda, the other half of the pair and the primary drawer of the two.
"xoxo" takes the characters of Maya and Yehuda and repurposes them into two "concepts" that appear in all 10,101 images that are being created. Each image follows the same template: two persons, usually male and female, embraced in a kiss while representing something that symbolizes a synergy between them. These can be anything from a man made of fire kissing a woman made of ice, to something darker such as an angel kissing a crying woman with a noose around her neck.
"We decided to pick this specific pose because a kiss is the most intimate pose that reflects affection - something more than friendship," Maya explained. "It's what separates us \[as a married couple\] from other friends we have. We are a couple and allow ourselves to be more intimate."
The collection is under the management of PickCherry, an Israel-based technological and marketing company that specializes in blockchain applications. Its Co-Founder and CEO Ido Regev also joined CTech to share the idea behind the mission.


"I think most NFT collections tell a story, but they usually tell one story," he explained. "This collection, every single piece in itself has a storyline… Being in the space for the past two years, I didn't encounter any other collection thus far that generated for me as an investor that feeling that there is a story behind every single piece and a story that has different meanings for different people."
While excitement lurked, PickCherry is still coy about the exact dates for the launch. Regev has promised that a website is launching "this month" with the sale of the pieces starting sometime in May. The price of the NFTs were not disclosed but the couple confirmed that they are affordable enough for the community to easily enter the NFT space as first-time buyers. As well as the actual token, holders also have access to a variety of physical utilities such as merchandise, convention tickets, or online classes with the couple.