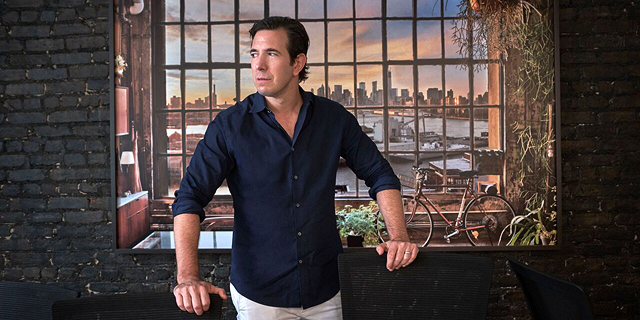 Interview
A Fixer for Startups in the Age of Trump
Political strategist and venture capitalist Bradley Tusk helped Israeli startup Lemonade, which just raised $120 million, deal with insurance regulators across the U.S. In a recent interview with Calcalist, he talked about his services-for-equity VC firm Tusk Ventures, the Trump administration, and cryptocurrencies
Asaf Shalev
|
10:26 20.12.2017
For as long as there have been tech companies, they have lobbied the U.S. government at all levels. But the past year has seen tech companies stake out positions on issues that put them directly at odds with the Trump administration, shaping new political battle lines.
For daily updates, subscribe to our newsletter by clicking here.
Last week, President Donald Trump's appointee heading head the Federal Communications Commision rolled back net neutrality protections despite concerted opposition from Silicon Valley. Earlier this year, the president ended the Deferred Action for Childhood Arrivals (DACA) program that protects more than 700,000 undocumented immigrants who arrived in the U.S. as children from deportation. Tech companies, including Microsoft, Google, and Amazon, responded by forming a coalition to demand legislation on the matter. They want Congress to protect the Dreamers, as these immigrants are commonly referred to.
Sometimes, companies operating in brand new markets petition governments to enact laws and impose regulation. Cryptocurrencies, for example, have received a lot of attention in recent weeks as the price of bitcoin continues to rise and mainstream investors have taken notice.
"This really is an industry begging for a lot more clarity and regulations," Mr. Tusk said. "Because by definition it's not a nationalistic sovereign thing, it's not clear where it comes from." Mr. Trump hasn't expressed an opinion on bitcoin publicly and it appears his administration has yet to formulate a policy on virtual currencies. Earlier this month, CNBC asked the president's chief economic advisor, Gary Cohn, about bitcoin in an on-air interview. Mr. Cohn shrugged his shoulders and said, "I'm going to leave that to you. You're the expert today." In a follow-up interview with Bloomberg TV the same day, Mr. Cohn explained, "right now we don't think it's a serious risk, but right now we're watching it." Mr. Tusk has been a vocal critic of the Trump administration, on several occasions lampooning the president in his regular column—which is published in The Observer, a media property controlled by Mr. Trump's son in law, Jared Kushner. "It's interesting to see how Trump—I don't know whether he has any opinion on crypto whatsoever—how his administration and its philosophy would approach it," Mr. Tusk said, clearly piqued by the challenge of analyzing how Trumpian politics and bitcoin may intersect. "On the one hand, you could see them hating it," he said. "They don't understand it and they don't seem to be particularly drawn to new technology."