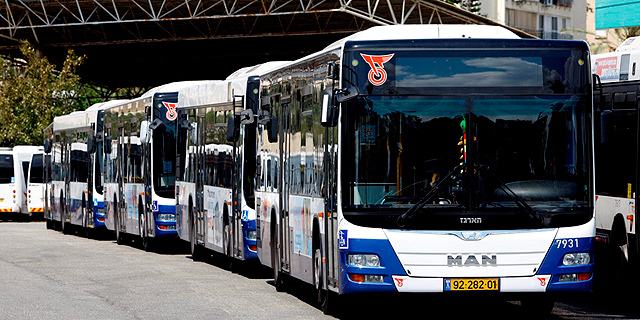 Tel Aviv Is Done Waiting for Israel to Approve Public Transportation on Shabbat
A short history of why and how one of the most vibrant metropolises in the Middle East, still shuts down for 25 hours every week
Tofi Stoler
: 2019-11-07T17:59:29..
Tel Aviv is a nonstop bustling metropolis, a popular tourist destination, and the undisputed business, entertainment, and tech center of Israel, except for 25 hours every week. Like almost all other Israeli cities with a Jewish majority, Tel Aviv takes a break on Shabbat, between sundown on Friday and sundown on Saturday, shutting down most of its business activity, as well as its public transportation system. And so every weekend, youthful, predominantly secular Tel Aviv is subjected to Jewish religious laws that dictate all labor must be avoided during Shabbat. This includes any form of paid work, all monetary transactions, and operating any type of machine or electronic device, including motorized vehicles.
Bubble
—Tel Aviv's on-demand ride-sharing service launched in April by New York-headquartered ridesharing company Via Transportation Inc. and Israeli public transportation company Dan Bus Company. Since Shabbat laws do not apply to initiatives paid for and operated by private entities, Israel has seen several private cooperatives pop-up in the past few years offering transport services on Shabbat and hoping to change the status quo, one ride at a time. The cooperatives operate on a not-for-profit-basis, charging a monthly member's fee, and a small fee for each fare. The first such cooperative, Shabus, was established in 2015 and runs several routes in Jerusalem and West Bank Jewish settlement Ma'ale Adumim, some getting as far as Tel Aviv. N.T Noa Tanoa Energies Ltd. was founded later that year and operates in the Tel Aviv metropolitan area. On its website, Noa Tanoa states its only goal is to shut down once the state begins operating its own public transportation services on Shabbat. In Israel, the sole authority for approving any aspect of official public transportation, including operation on Shabbat, is currently in the hands of Transportation Minister Bezalel Smotrich and the Ministry of Transport and Road Safety, which he heads. A religious orthodox Jew and a member of parliament for religious right-wing fraction The Jewish Home-Tkuma, Smotrich is strongly opposed to any form of what he considers public Shabbat desecration, including public transportation. As early as 1996, various professional committees and reports, including one published by the European Union, have repeatedly recommended the establishment of metropolitan public transportation authorities in Israel, most specifically in the Tel Aviv metropolitan area. These entities would operate independently and would have the authority to plan and operate public transportation as they see fit without requiring the ministry's approval. This could potentially give such an entity the authority to determine whether or not to operate public transportation services on Shabbat. However, even though a plan that would see the formation of such metropolitan authorities was approved by the government in 2011, it has yet to materialize. Israeli law, however, offers a loophole that could come in handy for cities looking to make public transportation available on weekends. In the eyes of the law, public transportation is defined as a means of transport where passengers directly pay for their ride. Free services, therefore, are excluded. Last week, Tel Aviv approved a NIS 1.5 million (approximately $425,000) budget for the remainder of 2019 to operate seven bus routes during Shabbat and religious holidays, covering the entire city. Tel Aviv also announced three neighboring towns—Givatayim, Ramat Hasharon, and Kiryat Ono—have joined the initiative and will be connected to Tel Aviv via the new Shabbat bus service. Running completely free of charge for passengers, the city estimates the annual cost of operating the routes will amount to NIS 12.5 million (approximately $3.5 million), NIS 9 million (approximately $2.55 million) of which will be covered by Tel Aviv.