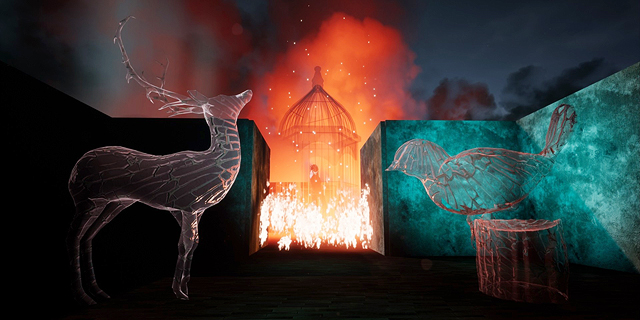 Israel's indie game industry is ready for its big breakout
Digital distribution has transformed indie developers into dominant forces in the gaming industry; after years out in the cold, a new generation of Israeli creators is heating things up
Amit Kling
|
17:05 11.11.2020
The world may be a vast and varied place, but it is safe to wager that it doesn't contain too many startups who got started as a heavy metal band. It may even turn out that Capricia, a promising Israeli gaming studio, which is about to debut its first offering, a game titled Of Bird and Cage, is the only one. But even if it isn't, it is still a unique story, simply by virtue of being a successful Israeli gaming company and an indie studio at that. Of Bird and Cage was showcased at this year's gamescom expo, one of the industry's three biggest events. And it wasn't alone. Other Israel-made games, Grime, Toodee and Topdee, In Sound Mind and Dream Engines and were also presented there. These games, alongside a handful of others, make up a wave of titles and companies that are breaking new ground in what we can dare start calling a local indie game industry.
A major success by a local indie company could dramatically impact the gaming industry, which is already enjoying a process of speedy growth and massive change. The larger the industry became and the more revenues it generated, the more it began to shift away from designing gambling or social casino games to creating light mobile games. This led to more income and more companies sprouting up, but the shared dream of many in the ecosystem — to build big and shiny console or PC games — still seems far off. With all due respect to the commercial success of the mainstream gaming companies, many of the Israeli developers and gamers are pinning their hopes on small, independent studios to put Israel on the global gaming map. The world, we see, is ready for it. Some of the most popular games of recent years came from places like Poland (The Witcher 3), Estonia (Disco Elysium), and Ukraine (The Metro series).
Indie games are at the crossroads between commercial success and die-hard fan appreciation. The audience is made up of tens of millions of people worldwide and thanks to digital distribution, even a small team's game can find its way to reach many people. As a result, even a game that's sold for the modest price of $10-$20 (compared to the standard $60 or more for a AAA game) can make its creators very wealthy.
Indie games can even become a worldwide cultural phenomenon as in the case of Minecraft. The game, which started as a solo project of Swedish video game programmer and designer Markus Persson, is one of the gaming culture's biggest icons, reaching all corners of the globe, and being acquired by Microsoft for $2.5 billion in 2014.
Similarly, Stardew Valley, which places users in the shoes of a young farmer who aims to build up his homestead, began as a one-man project of American developer Eric Barone. Since its launch in 2016, the game has become an international sensation, selling more than 10 million copies. These are some mind boggling success stories, and there are others, perhaps more modest, but still impressive.
A game that grew out of an album
Of Bird and Cage started out as a concept album by Capricia, a sort of metal modern adaptation of Beauty and the Beast. The original idea was to shoot a single video clip for the entire album, but along the way, the band members decided to pivot and turn it into a game that would accompany the album. "No one there had seen a line of code in their lives, apart from me — in high school," said Arnold Nesis, Capricia's CEO, composer, and the sole band member to remain at the company, which five years in is approaching the finish line. "It's fortunate that none of us had ever developed a game before, because if we had, we'd have realized we couldn't do it," he said. The project lived on and flourished well beyond expectations: Capricia was able to sign on world-class musicians (including former members of Guns n' Roses and heavy metal bands Epica and Within Temptation) to record the final versions of their songs, sign a distribution deal with Poland-based All In and make it to Gamescom. A month ago, the company released a 30-minute demo of the game on Steam.
Grime grew in an academic setting, in the game development faculties at Tiltan College. The team that is developing Grime, an action game with unique graphics that combines 2D and 3D animation is in a slightly better position than the rest; employed at a small studio called Cloverleaf, which is owned by the Tiltan College of Visual Design and Communication and which lets them draw a small salary and focus on game development. The partnership with the college also enables them to save on equipment, working space, and other administrative costs.
At the independent studio, Suncrash, led by partners Tomer Barkan (CEO and lead developer) and Yoni Wisner (Art director) things look a lot different. The pair already released a game two years ago — "apocalypse simulator" Judgement, a survival game that takes place in a world taken over by hellish demons. They are currently months away from the launch date for their second game Dream Engines, in which the player builds and manages a flying city and must protect it in a harsh environment.
Barkan worked at a tech company before deciding to turn to gaming and started off at a company that made mobile games. He insisted on a work schedule that would leave him time for his dream project and at one point found himself paying out of pocket for a salary for his partner to progress with the game. "Indie in Israel is a necessity, but for me, it is also a choice," he said. "Indie games are the kind I like to play and the kind I want to make. It's not just about the games either. I don't aspire to run a company with 200 workers. I prefer to work in small teams."
All eyes on Poland
"Even if indie is beginning to blossom in Israel, it is still an industry in its diapers. There is not enough talent and the talent that is available is being gobbled up by the bigger companies who have the budgets. What is developing is an indie mindset," said Shay Shem-Tobi, the CEO and co-founder of Gavra Games and the head of the indie cell at GameIS, a non-profit representing the local gaming ecosystem. Two years ago Gavra Games released Warriors: Rise to Glory, a humorous and lighthearted turn-based battle game.
The success of the industry at large allows developers to enjoy financial security at large companies and gain knowledge and experience that they can then take on to private projects. "Everyone is anxiously waiting for Israel to start releasing indie games that will be successful on the international stage, nevermind the dream of producing a Triple A title," Shem-Tobi added.
In the meantime, his eyes and the eyes of many in the Israeli indie community are fixed on Poland - one of the gaming worlds' biggest success stories of the last decade, and a country that shares many characteristics with Israel. True, Poland has a population of 60 million people and in Israel, there are fewer than nine million, but as Shem-Tobi says, "it's not like their gaming industry is spread out across the county, it's concentrated in the big cities."
Like Israel, Poland too was a secondary, nearly negligible market in the gaming world. All that changed in large part due to one company: CD Projekt Red. "The Poles had no bearing on the market in the 90s, but the moment CDPR stopped exclusively marketing games from abroad and started developing games of their own, the industry transformed into a monster. Investors poured in money and both large and small companies were founded, some of them by former CDPR people," Shem-Tobi added.
He points out several things that the Poles did right and could be adopted in Israel. "In our case, creating an amazing game will in itself put you in a special place. The very fact that there is a fun game that people can share with their friends creates a snowball effect. That's what happened with our game. It doesn't count for everything, but it's a lot. We also have to be marketing oriented. You need to make a buzz, to have the game talked about, that's what's unique about us."
CDPR, for example, introduced games based on The Witcher fantasy series by Polish author Andrzej Sapkowski. The company developed three games in the series, the third of which is considered by many to be one of the best games ever made, and put Poland in the gaming world's spotlight. "CDPR brought something very local, very Polish to their world design," Shem-Tobi added. "It is one of the things that made them stand out. However, ultimately performance is what's most important."