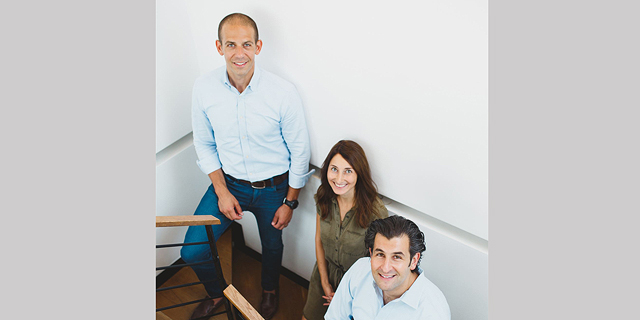 Israelis should stop driving false urgency when seeking funds, says Janvest Capital Partners
Speaking with CTech for its Israeli Tech in NY series, the venture fund highlights some of the ways Israelis can win over their American counterparts
The hustle can be hard, and no two cultures can clash more than American optimism and Israeli grit. While entrepreneurs of all shapes and sizes want the same thing - funds to help build their passion project and change the world - the two cultures may clash in deciding the best way to do it.
"Don't be transactional in every interaction and be careful not to drive false urgency," say the executives at Janvest Capital Partners when offering suggestions for Israeli entrepreneurs on what NOT to do in New York. The firm, which was founded and today run by two American-Israeli citizens, helps companies raise their pre-seed and seed investments.
Main fields of investment:
Enterprise-grade deep technologies in the areas of security, data, connectivity, business intelligence, software, DevOps, and cloud infrastructure.
Names of principals/managing partners:
Daniel Frankenstein (NYC)
Dafna Winocur Biran (Tel Aviv)
Brian Rosenzweig (Atlanta)
Partners and/or other backers:
Backed by leading U.S.-based corporates, institutions, family offices, and private investors
Year of founding/start of NY operations:
Founded in 2011 – NY office opened in 2017
Total sum of investments/size, number of funds:
Four funds to date with approximately $100 million in AUM
Median investment amount/Average investment in startups:
Lead or co-lead $2-$5 million pre-seed and/or seed rounds with $1-$2.5 million initial checks – leaving in reserve plenty of capital for follow-on participation.
Number/size of rounds led:
27 initial investments in rounds ranging from $1-$5 million.
General background on the organization, its managers, its founders and partners:
Janvest was founded in Tel Aviv in 2011 by Daniel Frankenstein and Brian Rosenzweig to provide smart seed capital and versioning support to Israel's best deep enterprise technology product teams. That versioning support, specifically for the U.S. market, is more than just lining up a few commercial relationships but rather encompasses a holistic approach surrounding corporate governance, cap table health, good hiring practices, and accelerated pursuit of product-market fit.
As far as the team, Daniel comes to Janvest from a consulting background where he focused on understanding and improving Fortune 1000 finance processes. Brian has spent much of his career in Israel's venture ecosystem providing cross-portfolio marketing and business development support targeting key U.S. markets. And Dafna joined Janvest in 2018 bringing growth stage investment experience from some of the most prominent funds in Israel and the U.S.
Our diverse backgrounds and skillsets combine to help us get to conviction quickly on dynamic teams and opportunities. From there we use our varying experience and expertise to effectively advise founders on financing strategy, customer adoption and onboarding, and key hiring in both Israel and the U.S.
Both Brian and Daniel are dual American-Israeli citizens having lived in Israel five and six years respectively while Dafna spent five years in the U.S. having worked in the corporate strategy group at SAP after earning her MBA from Columbia University. The personal and meaningful relationships we develop with our entrepreneurs stem from our ability to bridge any cultural or language divides that may exist.
The company's vision:
To be a preferred partner and source of capital for Israel's best founding teams at their earliest stages of development as they are beginning to strategize on their go-to-market, team building, product development, and financing strategy. At the same time, we want to be the go-to resource for dynamic Israeli product teams that need a helping hand in rectifying cap tables, corporate governance, and structural issues in order to transition into an investment-grade business.
What types of Israeli startups/entrepreneurs are you interested in?
To put it simply, we are looking for what we call 'big solutions solving big problems in big companies'. These are highly defensible technologies that have the ability to be a category maker or effectively displace large ineffective legacy systems. Typically our businesses B2B, SaaS-delivered, light in their integration, and very capital efficient
Why invest in an Israeli company in New York? What advantages do such companies have and how is the New York market different from the Israeli market?
We are seeing an increasing number of Israeli founders moving to New York to pre-empt even their seed round. New York offers a great talent base, close proximity to many customers, and an easier time zone/collaboration opportunity with Israel. At Janvest, we are uniquely positioned to support pre-seed and seed businesses that have a presence in both Israel and New York given our bi-national infrastructure. In fact, two of the past three deals executed by the firm have had at least one Israeli founder already located in New York.
How do Israeli entrepreneurs/startups differ from their local counterparts?
Because Israeli founding teams typically have such deep technical acumen, they often have more mature products at an earlier stage than their local counterparts. That being said, there is a degree of business acumen that is missing in many instances – business acumen that many startups in the U.S. already have in place. We find this is an area where Janvest is asked by its portfolio entrepreneurs to play a role, either in identifying business talent to hire or providing it through hands-on advisory. Two suggestions for Israeli entrepreneurs on what to do in New York:
Use your proximity to so many market-leading companies to get as much feedback on your product/vision as possible

Start building relationships with investors when you're not forced to do so – this pays off handsomely in the long run.

Two suggestions for Israeli entrepreneurs on what not to do in New York:
Don't chase revenue over product/market fit. Find the RIGHT customer, not just someone that will pay you

Don't be transactional in every interaction and be careful not to drive false urgency

On a scale of 1-10 how much did the Covid pandemic impact your work?
For technology companies that are driving and/or supporting digital transformation, which is most of our portfolio, the Covid-created market conditions have presented significant opportunities and generally speaking been a net positive on our overall performance. That being said, there are one or two businesses in our portfolio that had some of their deployments and integrations pushed off until 2021 and had to rethink their go to market, financing strategy, and hiring to adapt. Israeli teams however are incredibly resilient and instead of sulking over missed projections, they turned internally to their products, made significant improvements based on the ongoing collection of market feedback, and are heading into 2021 with stronger than expected pipelines.
Success stories:
Thankfully, we have a few success stories – some that are public, and some that aren't yet. Of the public ones, two notable companies include BioCatch and Coralogix. This year BioCatch raised over $150 million from investors such as Bain Capital Ventures, Goldman Sachs, Barclays, Citi, and others. We led BioCatch's pre-seed and seed rounds and have been a part of the company's Board as they've grown to be the de facto market leader in behavioral biometrics. In the last 12 or so months, Coralogix has raised $35 million from investors such as Aleph, Red Dot, and OG Tech. We led Coralogix's seed round and have been involved in the ups and downs of the business since 2014. This is an amazing story of a company that was on its deathbed, went back to the drawing board on their product, emerged with an advanced observability platform, and is seeing explosive revenue growth with nearly 2,000 customers globally. Examples of 2-3 most successful investments: We've got a mixture of companies where we led either their pre-seed or seed and are moving in the right direction in terms of customer adoption and growth. A sampling of such companies includes Simpo, which raised a $4.5 million seed round from Redpoint Ventures and another major, yet undisclosed round from a top U.S. VC. Altostra, which raised a Janvest led seed round last year and are emerging with tremendous partnerships with companies like CircleCI. Rupert, which raised a seed round from NY-based IA Ventures, and Reposify, which raised a multi-million dollar seed round from prominent Israeli and U.S. venture funds.
The IL Tech in NY project is a collaboration between CTech and Israeli Mapped in NY.
For more information: Franklin@israeliMappedinNY.com