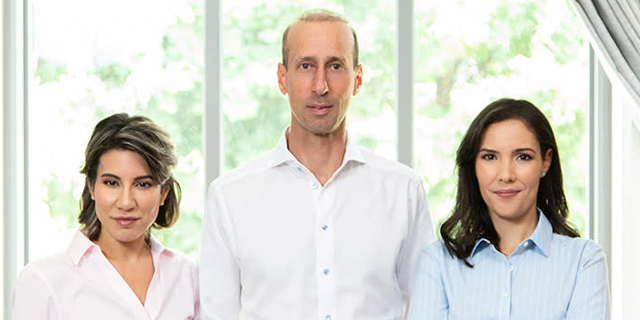 New York is "a fantastic landing pad for companies," say executives at INcapital Ventures
The team from the North American and Israeli VC shares some insights with CTech on the New York tech ecosystem
"The New York tech eco-system is active and growing," confirm the executives at INcapital Ventures. It has "significant support from the state, who looks at tech as one of the growth engines for the economy."
It's no secret that New York can match the startup spark ignited by California hubs like Silicon Valley - and it has the VC presence to prove it. While most Israeli entrepreneurs and VCs see the benefit that a closer time difference has when setting up shop in New York, INcapital sees far more than that.
Main fields of investment:
We invest in series A and B early-growth stage SaaS B2B startups predominantly from Israel. We look for companies at the point of global scaling, with operations, sales, and traction in North America, where we can add value by leveraging our expertise and extensive network.
Names of principals/managing partners: Inbar Haham, Tel Aviv, New York, Managing Partner
Natty Nashman, Toronto, Managing Partner
Mark Nashman, Toronto, Chief Investment Officer
Partners and/or other backers (corporations, angels, other institutions): Backed by Canadian Institutional Investors, family offices, and HNWI. Year of founding/start of NY operations: 2019 Total sum of investments/size, number of funds: We have made five investments from our first fund. Median investment amount/Average investment in startups: $3 million Number/size of rounds led: We have led four rounds so far in the $5m-$10m range. General background: Our team has a combination of operational and financial experience. Natty and Mark are entrepreneurs who bootstrapped their company, Clarity Systems, and scaled it successfully all the way through a strategic acquisition by IBM. Since the acquisition, they invested in a portfolio of early-stage tech companies with a number of successful exits. Inbar brings 20 years of experience working with tech and financial companies in various roles. Most recently as a VC, she led the U.S. Operations for Magma VC where she focused mainly on business development opportunities for Magma's portfolio companies in the U.S. Inbar gained a reputation for being a bridge-builder for Israeli companies coming into the U.S market. Company's vision: We apply a data-driven, risk-mitigated approach to investing. Knowing first-hand the challenges early-stage companies face allows our team to better vet opportunities.
We don't "spray and pray" but rather we invest in a handful of companies where we can draw from our operational expertise and work closely with our founders to achieve their milestones. We focus on revenue growth and increase efficiencies, build teams in North America, help structure the right partnerships, and accessing North American capital.
What types of Israeli startups/entrepreneurs are you interested in? We look for teams that demonstrate the ability to execute on their vision, with subject matter expertise and preferably with previous experience in working together. We prefer companies with diverse investor cap tables with both financial and strategic investors that can help drive market penetration. We look for proprietary and unique technology or products with a clear competitive advantage and differentiation. We invest at the inflection point of growth when the company already has an established product/market fit that is demonstrated through global traction with paying customers and distribution channels. Why invest in an Israeli company in New York? What advantages do such companies have? How is the New York market different from the Israeli market? We like to invest in Israeli companies that have a presence in New York because we believe that New York is a fantastic landing pad for companies. It has a friendly ecosystem and is considered a hub, necessary for scaling opportunities, attracting experienced talent, and available capital. The time difference between Israel and the East Coast allows good sync between the Israeli offices to the U.S. offices and travel is easy, or at least it was pre-Covid-19 days. Being present in the market where a company operates is critical for its growth and expansion efforts; creating partnerships, collaborations, and understanding customer needs during the crucial stage of establishing product/market fit. The New York tech ecosystem is active and growing, with significant support from the state, which looks at tech as one of the growth engines for the economy. The New York tech ecosystem is multi-cultural as opposed to the Israeli tech ecosystem which is more homogeneous. Israeli companies tend to be more focused on the technical side rather than the commercial side, at least in the beginning. This is also a result of the tech expertise that Israeli founders acquire in the IDF. We focus on companies with deep tech capabilities, but they need to also have a proven business model and monetization strategy. Therefore, we look for companies that built their tech in Israel and moved their sales and marketing operations to North America, which is usually where their main market and scaling opportunities are. How do Israeli entrepreneurs/startups differ from their local counterparts? Israeli entrepreneurs tend to have a direct communication style, which is not always common in the U.S. There is a learning curve for Israelis regarding how to effectively communicate in the U.S. However, they usually learn very fast and blend into the local scene quickly. Two suggestions for Israeli entrepreneurs on what to do in New York: 1) Find a local mentor from your industry who can help you better understand the local culture and help with valuable advice on how to build your company.
2) Hire top talent that comes from a multi-cultural background and will do well in a multicultural environment.
Two suggestions for Israeli entrepreneurs on what not to do in New York:
Don't try to raise capital in a market you have no presence or operations in. We met founders that expected to raise capital in the U.S without any traction and presence. Unless there is an existing relationship, it's very difficult.
Don't assume you know everything and don't be shy to ask for help. Relocating a company is difficult and you will need all the help you can get. On a scale of 1-10 how much did the Covid pandemic impact your work?
Probably 5. Our industry was impacted, however less than other industries. We changed the way we interact with entrepreneurs and investors. We do all the initial screening in video conferences and only meet in-person with founders, investors, or business partners when we have a strong indication that we are going to collaborate with them. We only travel when it's critical. It makes the process a bit slower as it takes more time to build trust.
We worked closely with our portfolio companies and spent more time with them to make sure that they were well-positioned to weather the storm and operate during these uncertain conditions created by the global health crisis. Can you share with us 2-3 success stories that describe some of the most successful investments you have made? Cluep Cluep's AI mobile ad platform targets people based on what they are sharing, how they are feeling, and where they go. We invested in Cluep's seed round and actively worked with the company to fine-tune its product/market fit and acquire its initial set of Fortune 500 customers. Following a 5-year investment window, the company was acquired by Impact Group providing its investors with meaningful returns. Iguazio Iguazio is a Data Science Platform, automating the entire Machine Learning (ML) pipeline. The company has a growing list of enterprise customers, spanning a wide range of verticals, and has established deep partnerships with industry players such as Microsoft, Nvidia, Dell, NetApp, and Samsung. INcapital Ventures led the B round in late 2019. Following that, the company nominated Mark Nashman as the chairman of the board to help drive global strategy. PlainID PlainID is our most recent investment. The company developed an authorization management platform that is policy-based. While traditional access management tools typically involve the IT department, PlainID has adopted a business-centric approach, providing business leaders the ability to centrally administer access policies that are platform agnostic, without the need to involve IT. PlainID has partnered with leading technology players such as SAP and others and has fortune 500 enterprise customers.
The IL Tech in NY project is a collaboration between CTech and Israeli Mapped in NY.
For more information: Franklin@israeliMappedinNY.com