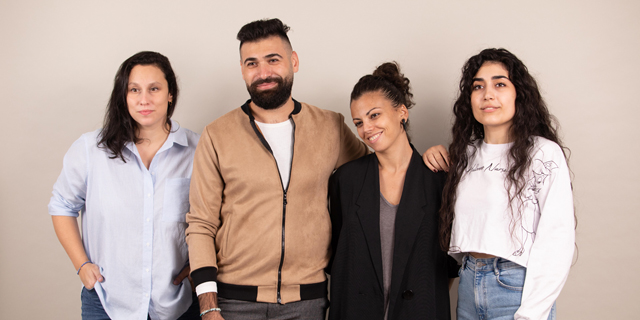 Young Middle Eastern techies overcome borders by collaborating in virtual space
Starting Up Together lets entrepreneurs from Israel, Gaza, Morocco, and Syria shine bright
James Spiro
|
00:18 13.02.2021
The Peres Center for Peace and Innovation and the Edmond de Rothschild Foundation (Israel) have launched the first-of-its-kind program called Starting Up Together, in collaboration with eBay's Development Center in Israel and the Center for Smart Cities at Bar Ilan University. The three-month program consists of a weekly Zoom meeting and includes participants from countries such as Egypt, Iraq, Morocco, The Palestinian Authority (Gaza), Syria, and Israel, and aimed at helping motivated and passionate aspiring entrepreneurs obtain the skills 'to turn their dreams into a reality'.
"Covid-19 brought the world closed doors, but it also opened a lot of doors," explained Danielle Aviran, Project Manager at the Peres Center. "And the fact that we can collaborate and work remotely together, create together, and give the option for them to do it... it's really exciting."
Alina Shkolnikov, Impact Entrepreneurship program officer at the Edmond de Rothschild Foundation, noted that "the foundation has been supporting the Starting-Up Together program for three years - believing that every entrepreneur should have the tools to fulfill his/her vision, as this is the only way to establish a strong entrepreneurial ecosystem and sustain an economy that works for the benefit of all parts of society. The previous and current program cycle dealt with a critical social issue - urban life. This issue is relevant not only within the borders of Israel, but also for our neighbors. Therefore, this year, considering the success of previous cycles, we decided to expand the ranks for participants from other countries around the world so that together we can try to build solutions for making our habitats a safe, accessible and sustainable living space for all of us."
"As part of eBay's social activities, we believe in educating and instructing different segments of the population, by giving them tools and knowledge that can help young entrepreneurs to grow and develop. One of main methods we use to realize this vision is innovation, a wonderful means for minimizing social gaps and opening doors for unusual collaboration. With this special program we forge an exciting and unusual connection between brilliant entrepreneurs from all over the Middle East. This connection enables entrepreneurs to receive tools and proper instruction, with which they can start social initiatives, that can help different segments of the population in their countries," said Gadi Mikles, Head of Innovation and Research Product Management at eBay israel.
"The fact that I could just use Zoom in order to chat with an entrepreneur from Morocco, an entrepreneur from Jordan and a start-up founder from Egypt, and share thoughts of the different challenges they all need to face, is no less than hypnotising to me. Shared thinking, deep understanding of challenges and the search for unusual solutions - all of these are essential parts of technological and economical collaborations that can be achieved, and they are the key for a real, meaningful change," Mikles added.
When CTech met (virtually) with project managers and participants from this year's program, the Zoom call had boxes that were broadcasting from Israel, the West Bank (Ramallah), Morocco, and Egypt. What might be a hotspot for political and historical conflict is immediately relieved by the universal feelings and experiences, such as internet connection and accidentally muting yourself when speaking to the chat. "I've turned my camera off so my connection is better," said one of the participants in what might be one of the most universal sentiments of the Covid era. The young participants seemed to brush aside the geopolitical achievements of the past year, which included the normalization of ties between Israel and the UAE, Bahrain, and Morocco. "When Israel had the normalization accord with Morocco, the first thing that happened in the (Facebook) group was a conversation about what they were waiting for. Of course, Israel and Morroco are like-minded and would want to be friends and visit each other," said Shai Shalgi, one of the project managers of the Starting Up Together program from Tel Aviv. "I think this year highlights how amazing online peacebuilding programs and entrepreneurship programs can be, and what they can give us that nothing else can," said added.
Another participant from the program was Ahmad, 26, from Egypt who is working on a startup that aims to improve internet bandwidths in Arab countries by creating hubs in small villages for virtual and physical gatherings.
"We are sharing our experience of living in the region and feel like we are living this experience altogether and we feel like what's happening in a country like Egypt is the same as Tunisia and all Arab countries," he told CTech when asked about his experience in the program. "It's virtual but you feel like you're living the experience in other Arab countries, so it was eye-opening for me." Starting Up Together started in December and will be continuing its weekly meetings until March, where participants will learn how to network, promote their ideas, and enter an ecosystem that is currently predominantly filled with people from the same country, background, or religion. "Our vision is to give the opportunity and option for everyone in the world to express themselves and make their voice heard," said Peres' Aviran, "and to give them the tools to make it the best way possible... I worked for a few years with Palestinian organizations and Jordanian organizations, but I never spoke with a guy from Syria, or Iraq. The fact it's doable, and if have an idea I want to fulfill, and he has an idea he wants to fulfill, the fact we can do things together is mind-blowing," she said. The Peres Center was established in 1996 by former President of Israel Shimon Peres to help develop programs that promote a prosperous Israel and peace between her and her neighbors. The Edmond de Rothschild Foundation (Israel) works to promote excellence, diversity, and leadership through high education. It helps with a variety of innovative projects throughout the country aimed at reducing social gaps in society and fostering young leadership.