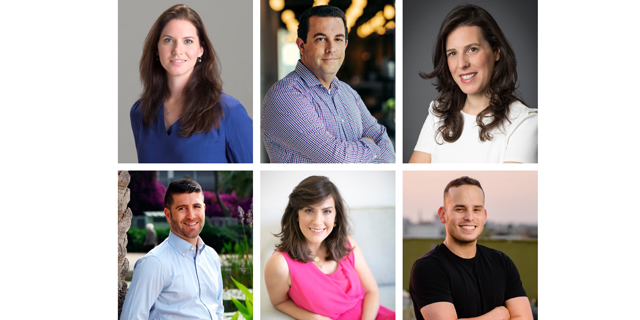 Choosing an accelerator? This is what startups should look for
Entrepreneurs can benefit from joining one of Israel's many accelerator programs - but choosing one is easier said than done
James Spiro
|
18:45 18.05.2021
Everyone talks about funding, VCs, and exits in the ecosystem of Startup Nation. While much attention has been given to the success of Israel's startups, little attention is given to the communities and networks that help foster their growth - notably, the accelerator programs that support young companies and entrepreneurs.
"Israel is a special country as it is very innovative and therefore accelerator programs are inherent part of the ecosystem," explained Adi Hoorvitch Lavi, Director of Business Development & Strategic Partnership at Poalim Hi-Tech. "Once you have an ecosystem with a lot of startups, which most of the startups fail, they need support from these accelerator programs... They assist startups in taking entrepreneurship challenges and collaborating with other, large, companies.. .we have so many acceleration programs because we're such an innovative country."
"For us coming to Israel, it was a clear next step," explained Yonit Serkin, Managing Director at MassChallenge Israel. MassChallenge is a global network of innovators helping solve 'massive challenges'. While its headquarters are in Boston, the accelerator program set up a base in Israel in 2016. "MassChallenge in Boston had indicated its first foray into global activities would be to Israel not for any Zionist reason… but rather an understanding that really smart, bright technical talent exists here and that being able to connect these two markets was going to be incredibly exciting and powerful in terms of creating jobs for the future."
MassChallenge Israel accelerates roughly 40-50 companies here each year - and it has nine different programs that operate in cities around the world. While Serkin described the program as "sector agnostic", they look for early-stage entrepreneurs who can have access to 350 mentors locally and thousands from its international network abroad. MassChallenge was born in Israel after arriving as part of a wider network, but Israel's oldest and first accelerator program from 2011 came from one of Israel's most well-known exports - the army's 8200 Unit. 8200 For Startups by EISP was designed to take 'the knowledge, the know-how, and the skills of a tech entrepreneur and give them to the entire tech community.' "Today, there are so many accelerators, you have to make sure you get the right and good smart content," said Yarden Abarbanel, Managing Director of at 8200 For Startups by EISP. "Because it's the easiest thing to give bad advice." Today, the program is in the middle of its 11th cohort focussing on helping companies at the early stage of their journeys.
"I think Israel in its nature is a country with a local ecosystem that promotes entrepreneurship," explained Shmilo when asked what brings such an influx of accelerators to Israel. "It allows people to fail, to fail fast and quick so they can rise up again and do the right thing." It's hard enough to get VCs to believe in your product or service, but Shmilo added that impact tech has a unique set of obstacles that make a dedicated accelerator program more necessary than more agnostic ones.
"When you start an impact tech company, you face unique barriers in finding your business model," he added. "In raising funds of course, (but also) in finding the product-market fit. On top of the boundaries of starting a startup, you need to convince investors you're going to be a good investment for them, but you also want to stick to your values and create a positive impact on the communities you want to serve. It's like merging two worlds that don't necessarily meet in an earlier stage." 8200 Impact has the IDF brand behind it, but its focus on specific industries can help attract tailored talent who can also enjoy the networking and mentorship programs associated with other programs. There are so many entrepreneur programs now in Israel that one should be looking deeply into what the program offers, and how it can best serve their company's needs. Entrepreneurs may be looking for different things at different times, hence why accelerator programs that exist may not be the right fit for them. The same, of course, can be said for the programs themselves who also have different Key Performance Indicators. What is it they want at the end of their four or six-month program? Is it a network of mentors, access to VCs, or a fleshed-out plan on how to independently go to market with no added help?
At IDCX, there are five key pillars that are determined as important elements for companies that join its 'cohort': product, UX, technology, people, and growth. Since IDCX is made up of three different partners - VC firm AnD Ventures, shared office space MIXER, and Israel's IDC Herzliya - IDCX doesn't welcome companies as participants of a program but instead, it immediately views them as companies in a portfolio with the aim to "reach our single KPI for the program which is raising funds."
"We do not treat the accelerator as a batch or cohort, we tailor-make specific suits for each company," explained Ariel Cohen, Partner at AnD Ventures and Program Lead of IDCX. "We have an actual VC behind the entire operation with all the processes and methodologies and insights we bring to the table… and we treat them as our portfolio companies from the moment that we sort them and decide which startups will attend." According to Cohen, the methodologies at IDCX are tried and tested from experience at Google. "At Google, one of our partners established and led, for six years, Google accelerators. He evolved it from being an accelerator into a tailor made structure which is the Studio. So, after the first month where they create a lot of content that's needed to understand the five pillars, we work with them one-on-one to understand exactly what it is they need. Obviously, all of them are pre-seed, but their immediate need could be different." The fact is, accelerators can offer entrepreneurs anything from tailor-made intensive classes to broader networks or an investment. While some accelerators like 8200 are non-profit and don't take equity, Fusion LA will invest $100,000 in 6-9 companies per cohort. And there are two cohorts per year, so this results in roughly 15 companies getting help with first hires, products, customers, and fundraising.
"Because we take equity in the company, the startups see us as initial partners and co-founders," explained Guy Katsovich, co-founder and partner at Fusion Labs. "We are no experts. We don't see ourselves as experts in anything but (we're) able to connect the dots and hear the founders' story and know or guess who they should talk to from the industry, whether it's professionals, investors, or customers, in order to get the right advice or validation about what they're doing."
In three years, Fusion LA has invested in 55 companies and 70% of them have raised more than $2 million following their guidance. Whereas some accelerators look for a team or product, Fusion LA searches for "industry agnostic but non-traditional" companies that are doing something unique. "We don't care about the pedigree but more about their professional attributes," Katsovich concluded. "We look for people who are fearless and have the attributes of building and running a company from 0-1, and then from 1-10000." As Israel grows in size and scope, more accelerator programs are appearing to help weather the storm of confusing application processes, overwhelming choices, and intimidating application rates rarely exceeding 10%. In a few short years, a variety of options have become available, and yet it can still be hard to distinguish between each cohort and community from one another. As time goes on, these networks and communities will surely expand, intertwine, and consolidate into a network of supported entrepreneurs for the future, something that sponsors like Poalim Hi-Tech can help with. "At the end, people want to know why they should go to an accelerator and which ones they should choose," concluded Bank Hapoalim's Hoovitch Lavi. "That's why we collaborate. I can personally say I love working with early-stage startups and helping their passion come to life. For us, it's something we hold dear."