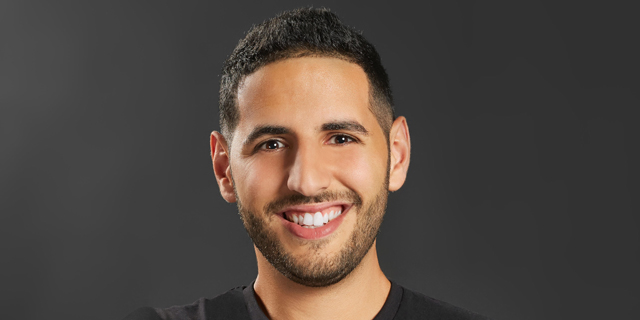 Exclusive
Nas Daily: "The institution is getting weaker and the individual is getting stronger"
Arab Israeli vlogger Nas Daily spoke with CTech about the creator economy and Israel's place on the influencer stage
James Spiro
|
14:49 27.12.2021
"I like your background," said Nuseir Yassin as he connected to CTech on Zoom. The virtual background was displaying a large collection of books to make it look like we were speaking from a library. "Here's where I am," he turned his camera around and showed us that he was having his breakfast on a balcony overlooking some of Dubai's tallest buildings.
"I think I prefer yours," CTech laughed, returning the compliment but feeling flattered nonetheless. Usually, a comment on the video composition of a Zoom interview would not mean much, but Yassin's background - and success - made it a bit different.
Originally a software engineer at Venmo, in 2016 he started posting consistent videos each day about a variety of topics. Today, he has more than 40 million fans across his platforms. His videos have interviewed people or explored topics that would interest people from all over the world. His primary motivation is the fact that life is short and that every day should mean something and have a stream of output. For years, he has worn the same t-shirt with a power charge and percentage that indicates the estimated journey lived through his life. At age 29, the shirt says he is 39% complete.
"Gradually, the institution is getting weaker, and the individual is getting stronger," he explained. "The gatekeepers are dying every single day. In the past, if I wanted to get my voice heard, I would have to beg Calcalist to write a story or beg the New York Times. The New York Times editor basically has too much power. They can dictate general sentiment singlehandedly. Because of social media now, I have become my own Calcalist." Recent years have seen an explosion in independent content creators who can travel the world and tell stories directly from their mobile phones. Traditional gatekeepers of communication or information are losing influence among young people who seek advice or education directly from individuals. Podcasters like Joe Rogan and writers like Bari Weiss (former op-ed editor at the New York Times), remain largely independent and rely on platforms like Substack, YouTube, or Facebook to speak directly to their audiences. For Nas, being from Israel in this global world doesn't make it easy. He said that growing up in Israel as an Arab was "bittersweet", and being famous from a controversial region is "a blessing and a curse at the same time." When Israel enters the news cycle for reasons usually related to terror attacks, Nas has unwittingly become the face of the Arab-Israeli conflict online. "The minute Nas Daily blew up, to let's say 50 million followers, then you actually then start to have followers that traditionally don't like Israel and are not ok with your country of birth," he explained. "And so you find yourself in this unique situation in which I am from Israel but I know if I say I am from Israel then I will get a lot of hate for it."