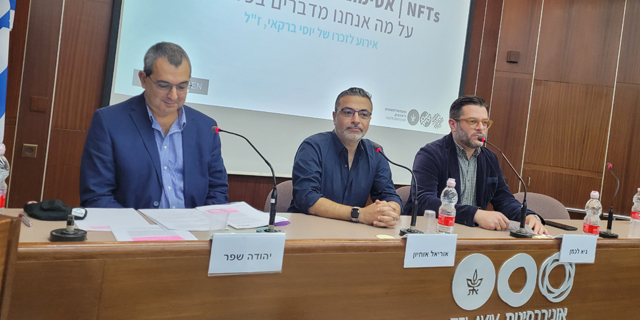 "NFT is an immense black hole completely overlooked by the law enforcement agencies"
NFT entrepreneurs and artists who attended the NFT Conference held by Pearl Cohen Law Firm and Tel Aviv University believe the craze will not subside anytime soon
Is NFT an opportunity "for putting money in the hands of copyright holders" or "an immense black hole which the money laundering prohibition agencies are not even aware of yet?" These were some of the questions brought up in a first-of-its-kind conference on the legal aspects of NFT held in Tel Aviv. The conference was organized by Pearl-Cohen Law Firm and Tel Aviv University, in memory of the late Yossi Barkai, a partner and patent attorney at Pearl Cohen, who passed away earlier this year.
NFT (Non-Fungible Token) is a unique digital token associated with an artwork utilizing blockchain technology to prove its originality. It is often used with works of art not available to the public by other means. For example, film director Quentin Tarantino offered NFTs of unpublished parts of Pulp Fiction's script and was sued by the film's production studio.
While no one can foretell the future of the NFT market, the turmoil it created crosses the boundaries of the technology world, impacting art, filmmaking, music, and culture. NFT artworks, from unique digital art to a tweet by Twitter's founder, Jack Dorsey, are offered for sale at millions of dollars, promising to transform everything we have known about art sales and the relationship between creators and their audience. NFT also gained momentum in the digital games industry with the P2E (Pay to Earn) model.
At the same time, regulators worldwide are beginning to acknowledge the digital currencies used for purchasing NFT artworks. In Israel, we learned last week that the Bank of Israel is planning to instruct the banks to stop denying services from licensed virtual currency service providers. The change of stance of Israel's central bank means companies trading in digital currencies will no longer face outright refusals of crypto deals. This new approach promises to make life easier also for the NFT investors who trade through these companies.
In response to what NFT buyers receive for their money, adv. Haim Ravia, Senior Partner and Chair of the Internet, Cyber and Copyright Group at Pearl Cohen, said the answer often resembles a Japanese Zen riddle. "A person who buys NFT receives an NFT." However, he added that some projects succeed in using NFT to mobilize funds and create a community of committed supporters and users. He cited the example of Stoner Cats, the successful animated series created by Ashton Kutcher and Mila Kunis.
Prof. Niva Elkin-Koren, an expert on intellectual property and technology law at Tel-Aviv University Faculty of Law, said, "most cases we encountered in the NFT marketplaces involve non-exclusive NFT rights. These rights are usually associated with a limited series of digital artworks or files traded under a smart contract. As a result, people involved with NFT are often concerned about the contract not being an integral part of the NFT. Instead, it only appears on the website, requiring buyers to search for it to learn more about the rights they are entitled to."
The copyright issue of NFT artworks has caused sleepless nights for music recording companies and film studios. Yorik Ben-David, the former CEO of ACUM (the non-profit corporation that administers the copyrights of authors, composers, and music publishers in Israel), and currently a composer and an NFT entrepreneur, commented on this aspect. "I regard NFT as an opportunity to bring the copyright owners in direct contact with money. I hope this is the beginning of a new model, which in its present stage does not come at the expense of copyright organizations such as ACUM or publishers. Instead, it opens a new realm of rights." Ben-David added, "The musical NFT community already comprises 400,000 people who trade musical NFT works."
Matty Mariansky, an NFT artist and an AI entrepreneur, commented on the scope of the new field, "It may come as a surprise, but the current noise around NFT adds up to just several millions of people worldwide. Until recently, there were less than a million users of OpenSea, considered the largest NFT website. Does that mean there is nothing behind the hype and NFT is bound to disappear or is it a nascent field waiting to make a remarkable debut?"
In another panel held at the conference, focusing on cryptocurrencies, the host, Adv. Guy Lachmann, a Senior Partner at Pearl Cohen's high-tech group, commented on the draft directive issued by the Banks' Supervision. The directive says that as long as the source of the money is in a licensed entity, banks cannot refuse to accept it just because it originated in cryptocurrency. Advocate Lachman said, "the directive of the Banks' Supervision reflects the regulator's expectations from the banks to deal with heavyweight issues of money laundering prohibition. Anyone who has attempted to buy cryptocurrency knows that the real difficulty is converting it into negotiable money (fiat money) since the banks regard you as a criminal, leaving you with slim chances of completing the transfer."
Advocate Yehuda Shaffer, formerly deputy State Attorney of economic enforcement and the Money Laundering Prohibition Authority founder, commented on the Banks Supervision's draft directive. He pointed out that courts are ruling extensively against banks' attempts to exclude cryptocurrencies. The reasons for doing so include fear of competition, technophobia, unwillingness or inability to manage risks. He said, "the banks' refusal to accept cryptocurrency must be supported by reasonable arguments. Given the absence of competition in Israel's banking industry, only the courts criticize and rule against them each time they refuse to accept cryptocurrencies."
He concluded, "Right now, NFT is an immense black hole that goes unnoticed by the enforcement agencies. I can see the benefits that NFT offers, but I am suspicious about its ability to serve as currency or a negotiable means. When someone pays millions of dollars for air and sells it a few minutes later at a massive profit, my common sense tells me some manipulation and false value are at play."
Ouriel Ohayon, founder and co-CEO of ZenGo, a developer of a keyless secured crypto wallet, commented on the revolution of independent content creators. "Creators are dealing with entities that dominate their lives, such as Twitter, Spotify, Google, and Apple. NFT allows them, for the first time, to distribute and sell content independently of any third party. This is a life-changing revolution for anyone who ever tried to live off content they created since content platforms such as Facebook and the like entered our lives. The content we post on these platforms is their property. They make money from it while we get nothing for surrendering to them all of our rights on the content we created."